Hummingbot is a system that can work with the crypto portfolio automatically. The bot is available as an open-source trading solution. It acts like a market-making solution that works based on an arbitrage strategy. The system can be applied to decentralized and centralized exchanges. We are going to check its features and parameters to decide whether it is a worthy investment solution for 2022.
What is Hummingbot?
| | |
| --- | --- |
| Price: | Free |
| Payment Options: | N/A |
| Supported Exchanges: | 30 exchanges |
| Cloud Based: | No |
| Strategies: | Arbitrage strategy |
Is it easy to use Hummingbot?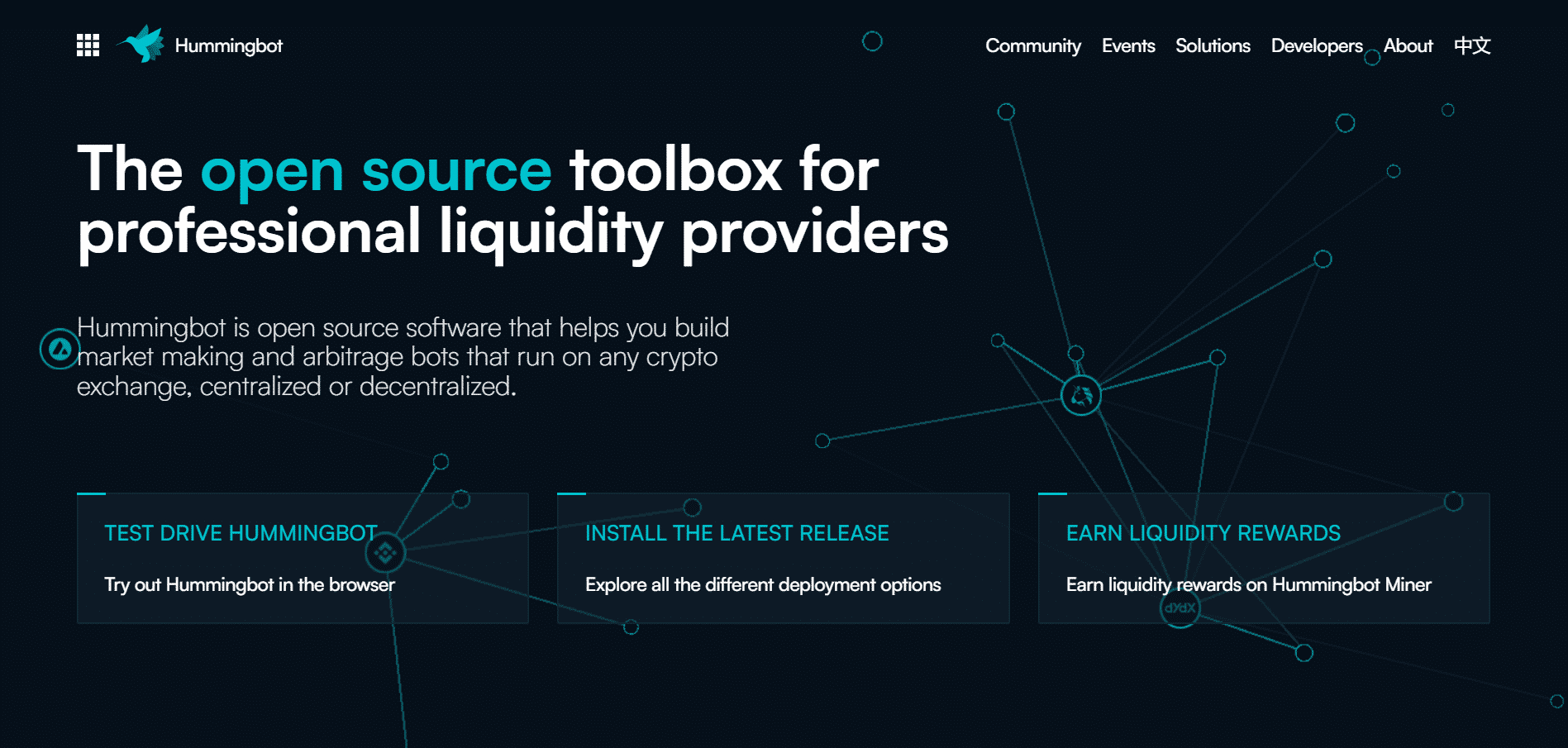 The market making based service lets everyone provide tokens and get them as rewards. So, it gathered 3200 traders with $2,4 billion volumes for more than 72 tokens. We can design our bots quickly. The developers mentioned that we have to use the Python language for this.
Features of Hummingbot
We have various features and possibilities revealed in the presentation. There's a list of them structured by priority.
The robot doesn't require us to have trading experience
The system can be a bridge between a decentralized world and traditional markets and institutions.
It handles centralized and decentralized exchanges at the same time.
The bot knows how to work with an Arbitrage strategy well.
Automated trading
Its core strategy is Arbitrage.
It works on the market 24/7.
The system works with several bots under one API key at once.
Money-management and security
This solution is trusted by many traders and developers.
The robot works based on locally installed software to hide itself from exchanges.
There are over 113 code contributors joined.
There's a liquidity mining white paper.
Trading features
There's a list of the most known among supported exchanges: Dydx, Binance, Huobi, Coinbase, Terra, and Uniswap.
So, the devs designed a framework with all of them (30 exchanges) at once.
It doesn't work under one session for two hours.
If the session is closed the default configuration is reset.
Pricing
We have no offer available because the system is a downlod free solution in which we can contribute our knowledge and trading experience.
Strengths and weaknesses of Hummingbot
| | |
| --- | --- |
| Strengths | Weaknesses |
| We can download the system for free | No core team revealed |
| it's possible to be a contributor | No risk advice given |
| | No backtest or paper trading results provided |
| | No trading results shown |
| | No testimonials written |
Is Hummingbot good?
It's hard to tell this for sure without trading results received from trading in the community.
Is Hummingbot safe?
The system works with API keys on our behalf. So, it can trade for us but it's not allowed to withdraw our account.
Customer support
We can expect to receive support via Telegram and email.
Reputation
We have some claims about who the developers are and what trading experience they have. So, they have knowledge in enterprise operations, corporate compliance, and budgetary constraints. The owners of the system insisted that they have relevant trading experience.