Zen Scalper EA is a Forex expert advisor that promises to deliver results faster compared to other systems. As per vendor claims, this is an efficient system that lets you earn a 70-100% return on your deposit.
There is virtually no background information available on the developer company. We don't know when it was founded and its trading history is shrouded in mystery. The vendor has not shared the details of the team members either. Also, we don't know if this company has developed automated trading systems in the past.
Choosing the best Forex robot requires careful analysis and research. There are several factors that influence the reliability of a system, such as live performance, features, trading strategy, price, and customer reviews. You need to check all of them to make sure the system is suitable for you. For further details, look at our best Forex robots list.
Zen Scalper EA overview
On the official website, the vendor makes a very disappointing presentation. Instead of explaining how the system functions, they have made some empty claims about it. We have the link to a live trading account and a list of features without any explanations. The website also has an FAQ section, pricing details, and a contact form.
As per our understanding, the features of this robot don't give you an edge over your competitors. It does not offer anything special and the vendor has failed to share the maximum information on the system.
Pricing
There are three license types for this Forex robot, namely referral license, monthly license, and lifetime license. The referral license is free and does not expire provided you have a minimum account balance of $3000. For the monthly license, you need to pay a fee of $59 each month, while the lifetime license is available for $249. The vendor has a 15-day money-back guarantee, but only for the monthly license. Although the price of the monthly license is close to the market average, the absence of a refund policy makes it a risky investment.
How it works
Zen Scalper EA is a 100% automated system with fast execution speed. You don't need any external files to run this robot. Since it follows a time-sensitive strategy, you need to be connected to the internet 24/7. According to the vendor, the system pursues high targets while keeping the drawdown low.
The EA is compatible with both MT4 and MT5 trading platforms. It has a lot-management feature that lets the EA perform automatic calculation of the trading lot size based on the balance. The vendor provides 24/7 customer support for all users. You should run it on M15 charts.
Trading strategy
This is a scalping bot that looks to capitalize on the minor price differentials between pairs. It is a high-frequency strategy that involves placing a large number of trades daily. Experts usually recommend beginners to avoid this strategy since it can be stressful.
Trading results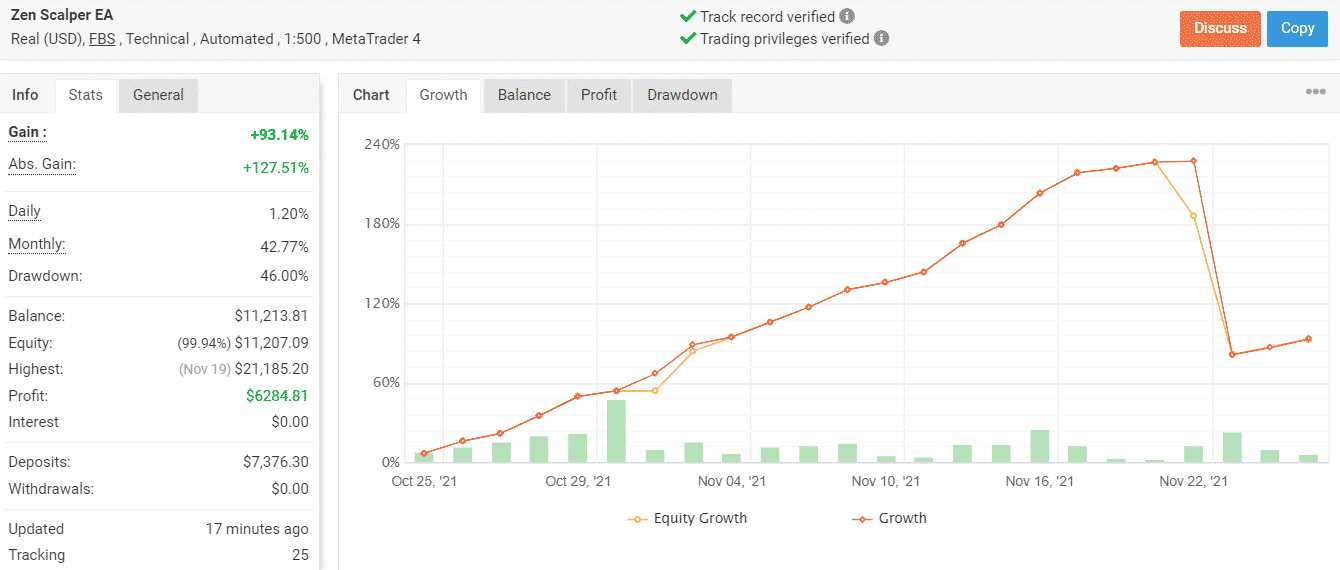 Here we have a live trading account for Zen Scalper EA on the Myfxbook website. The account has a very short trading history since it was launched in October 2021. After conducting 358 trades, the win rate for this account is currently at 70%.
This account has an extremely high drawdown of 46%. This is an indication of a trading strategy that has a high risk of ruin.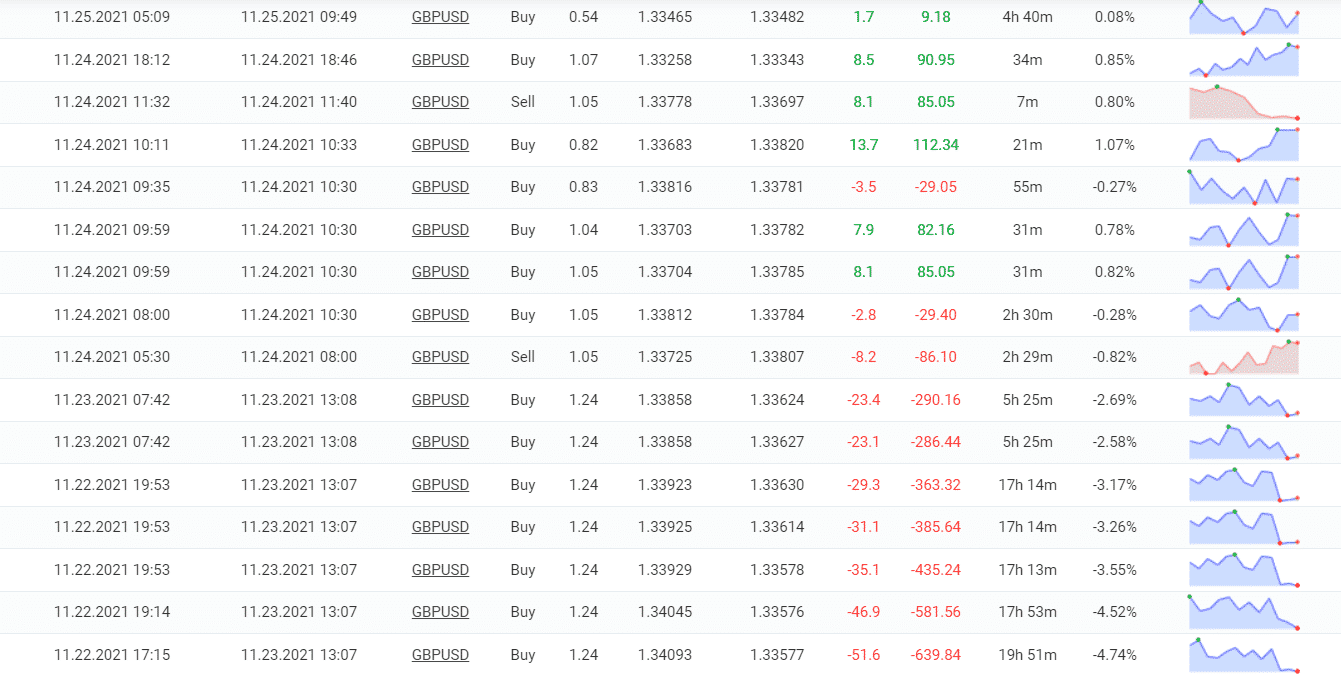 As you can see, the EA has suffered back-to-back losses during the month of November 2021. Thus, the vendor's claim of low risk is totally false.
Customer reviews
Unfortunately, we couldn't find any reviews for this EA on websites like Myfxbook, Quora, Trustpilot, and Forexpeacearmy. We think most traders feel wary about using this robot given its short trading history.
Backtests

From December 2020 to October 2021, the EA conducted 2093 trades through this account. The win rate for this backtest was 65%, which is slightly lower compared to the live statistics. While the drawdown is also a bit lower at 34.28%, it is still quite high compared to other systems.