Aura Pro is said to be a unique grid-based expert advisor. It runs on both the MT4/5 accounts and works on multiple currency pairs. The system is not sensitive to broker conditions and comes with extensive optimization and customization options.
The author of Aura Pro is known as Stanislav Tomilov. He lives in Russia and has a 5 star rating based on 111 reviews. Tomilov is also selling a variety of other trading systems on mql5. Some include Aura Black Edition, Euro Master, Matterhorn, and Aura Turbo. The website does not incorporate info about his qualifications or trading experience in this market.
Aura Pro features
The expert advisor has several features:
It is easy to install.
No setting files are needed as all values are found inside the code.
Supported symbols include EURUSD, GBPUSD, EURGBP, EURCAD, USDCAD, EURCHF, and GBPCAD.
The minimum recommended deposit is $1000 for every trading pair (or equivalent in cents).
The working time frame is H1.
A leverage of 1:500 is required.
Pricing
The present retail price of Aura Pro is $595. A renting option is also available, and to use the EA for a year, you are asked to pay $395. These two pricing options are indeed expensive. On average, other EA providers sell their products at $100 or slightly more. Their prices don't usually exceed $200.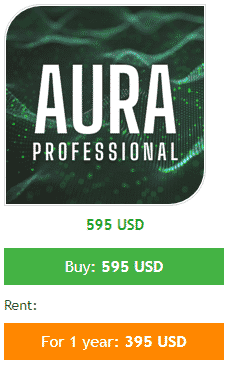 How it works
Aura Pro initiates and implements trades automatically for you based on its in-built trading criteria. It lets you participate in Forex trading at any time, even when you are sleeping. So, it will identify trading opportunities and take advantage of them according to instructions given. You will see, in the next section, how exactly the system places trades.
Trading strategy
Aura Pro works with the grid and martingale approaches. The developer adds that the system is based on deep machine learning, hyperparameter search technology that controls the learning process. Therefore, this technology develops the EA as it conducts trades.
Trading results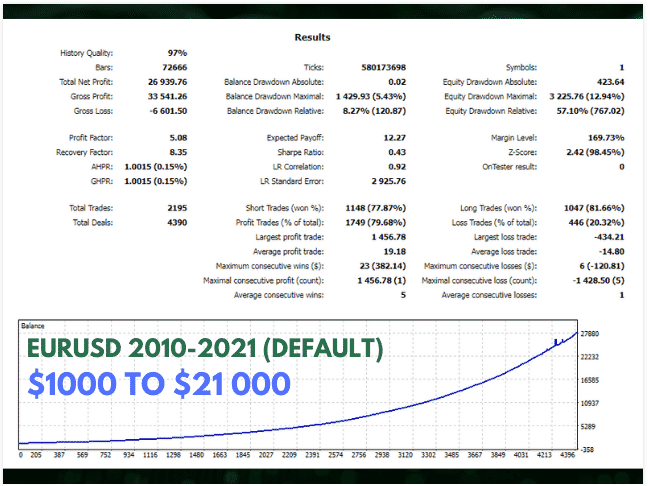 As per this backtest report, the EA was tested on the GBPUSD using historical data dating between 2010 and 2021 on default settings. Risky trading was involved as the system produced a huge drawdown of 57.10%. There were 2195 completed trades with win rates of 77.87% for short trades and 81.66% for long ones. Consequently, a total net profit of $26939.76 was generated from a $1000 deposit. The profit factor was 5.08.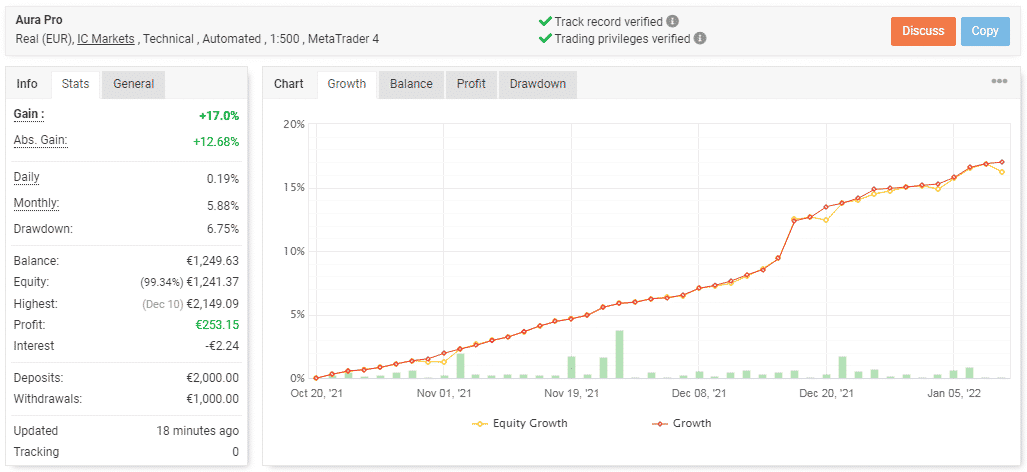 This account was deployed a few months ago, October 20, 2021. Since then, the EA has been making a monthly gain of 5.88% for it. To date, a profit of €253.15 has been made. Therefore, the account's value has increased by 12.68%. The drawdown, which is 6.75%, shows that the EA's trading activities have been safe so far. The owner has withdrawn a sum of €1000.

The system has conducted 243 trades with 4.76 lots, generating a profit factor of 2.05. The success rates for long (64%) and short positions (62%) are poor. There is an average win of 19.95 pips against an average loss of -22.94 pips. This intimates that the robot's chances of incurring losses from trades are higher compared to making wins.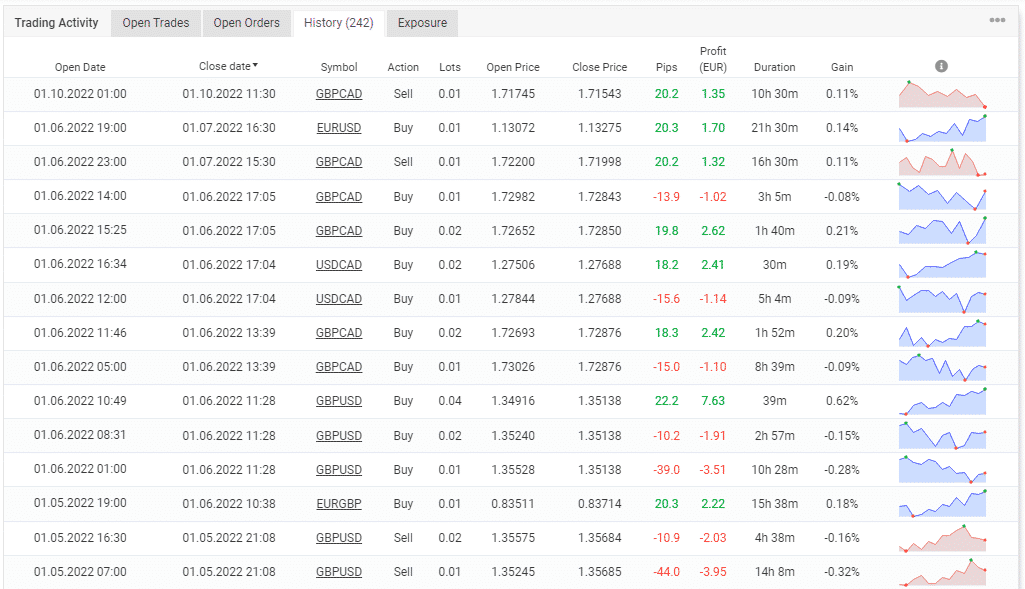 Grid and martingale strategies are present. The EA used both short and long timeframes.

The EURCHF and EURGBP currency pairs were the least traded pairs. The GBPUSD symbol was the most lucrative one as it made a profit of $80.19.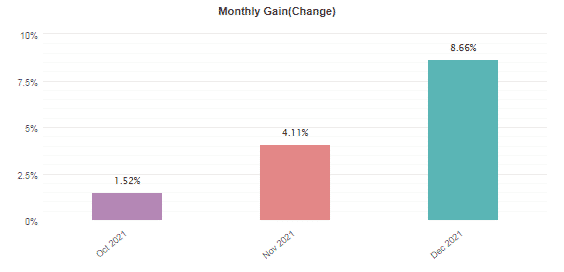 The profitability rate of the account has been increasing monthly.
Customer reviews
Aura Pro currently has a 4.2 rating on mql5 based on 5 reviews. Among the satisfied customers, the claim is that the system is profitable and has great risk management features. The developer is also applauded for providing support patiently. The only disgruntled trader warns others to be careful with this system because it is dangerous and can easily blow up accounts.