Blazing Night Scalper is a newly launched Forex expert advisor that promises stable results. The vendor promises a low price for early users, which means they are trying to lure in buyers. This is not a sign of a reliable EA, but before we pass a final judgment, we need to analyze every aspect of the robot.
The author published this robot on MQL5 on 1st October 2021. Scott Fredeman, the developer, is a resident of the United States. They have an official website called destroytheodds.com. However, there is no information available on this person's trading history and background. Other expert advisors built by this developer include Midnight Blitz, Aggressive Grid Sniper, Magdalena, and EA Monster Multiple Strategies.
Choosing the best Forex robot requires careful consideration. You must analyze factors like pricing, trading results, trading strategy, customer reviews, and backtesting data. Since there are so many scams flooding the market these days, it is important to collect the maximum information possible. For further details, check out our best Forex robots list.
Blazing Night Scalper overview
Blazing Night Scalper doesn't have an official website of its own. On the MQL5 product page, the vendor has shared the links for live signal, a Telegram group, a backtesting report, and a video that shows how to load the EA on your chart. They haven't elaborated too much on the features, which is quite disappointing. The presentation is quite haphazard and compared to other services, this EA does not offer anything unique or special.
Pricing
Currently, Blazing Night Scalper is available for the price of $199. This is close to the market average price for Forex EAs. The vendor offers a free demo version that you can use to test the performance using virtual money. However, there is no refund policy in place.
How it works
This EA works on the M5 timeframe. The vendor recommends brokers like Oanda, Pepperstone, Vantage, and ICMarkets. You can use it to trade in currency pairs like AUDCAD, CHFJPY, EURAUD, EURCAD, EURUSD, GBPAUD, GBPUSD, USDCHF, USDCAD, and USDJPY. According to the vendor, the robot can trade up to 20 currency pairs.
Blazing Night Scalper uses stop loss and take profit without using grid or martingale. It has a stop loss reduction system but the vendor has not clearly explained how it works.
Trading strategy
This is a scalping system working with low spread. During the night hours, it searches for the lowest spread and tries to find entry points based on recent lows and highs. Instead of using indicators, it uses its own logic to find entry points. Many experts advise against using scalper bots since they are not suitable for beginners. The high-frequency approach can be quite stressful and you can only win small profits from each trade.
Trading results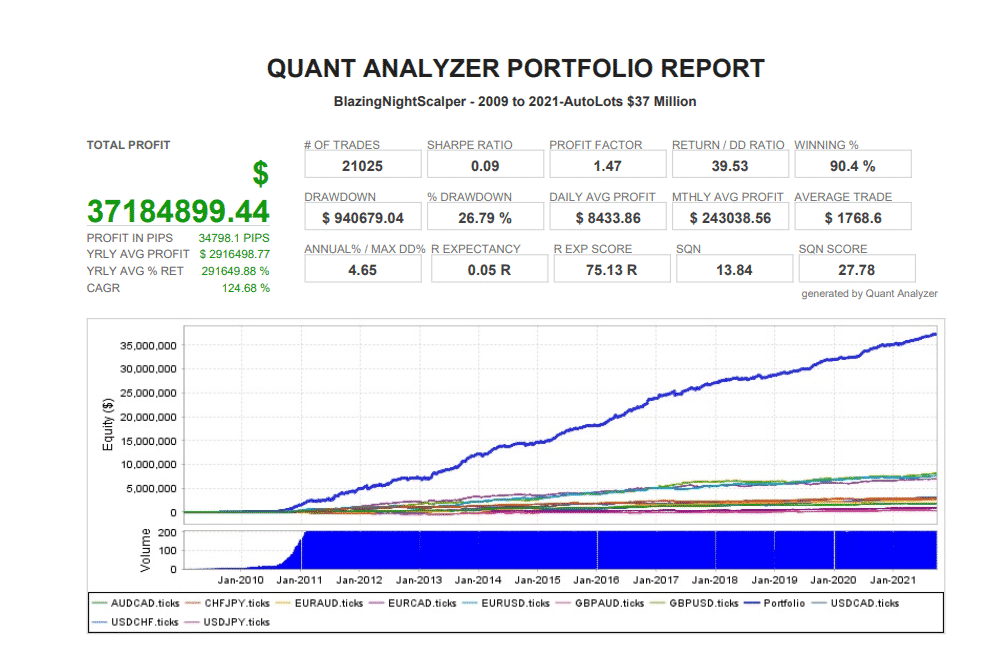 This backtest was carried out from 2010 to 2021. The EA placed 21025 trades and had a win rate of 90.4%. During the testing period, it had a high drawdown of 26.79%, which tells us that it was trading with high risk. The daily and monthly average profits were $8433.86 and $243038.56, respectively.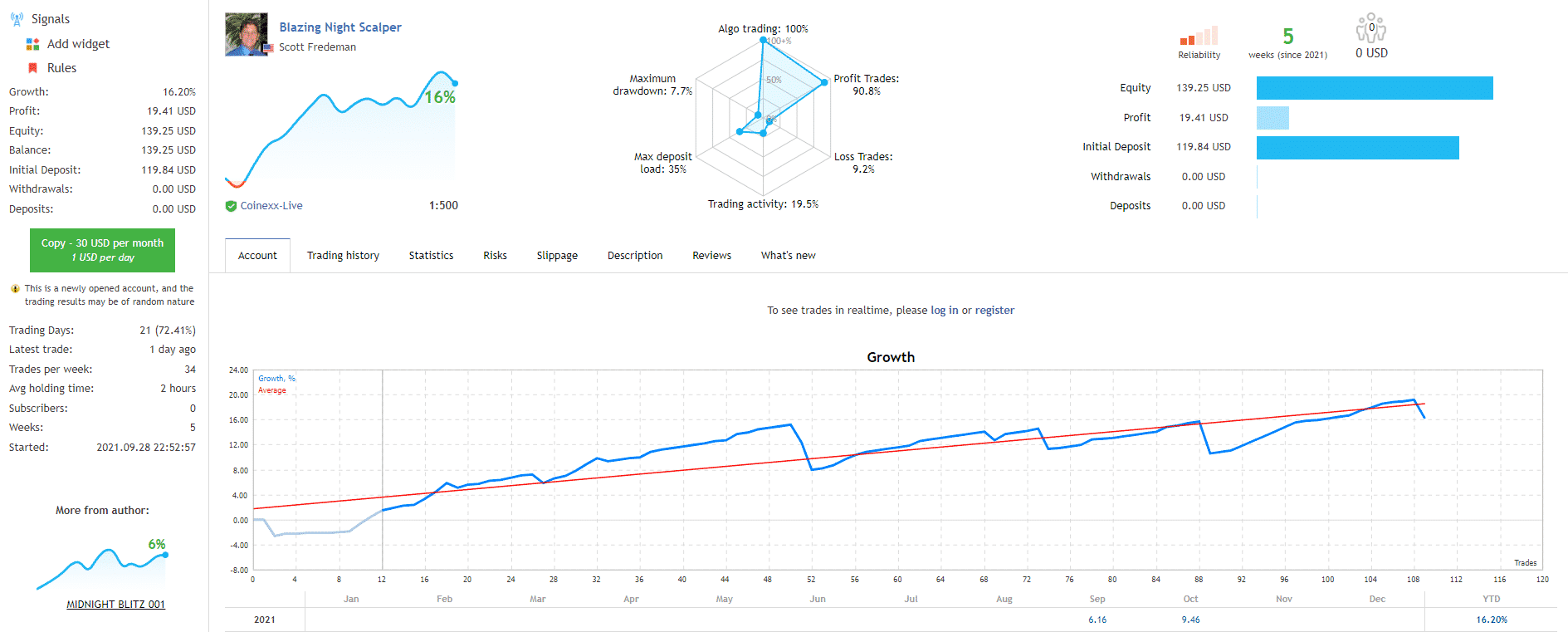 The vendor has not shared the verified live statistics for this EA. Seasoned traders look for results that are verified by websites like Myfxbook, FXStat, and FXBlue. Since the vendor has no chance of manipulating the results on third-party websites, you get to see the true performance of the robot.
Here we have the live results presented on the MQL5 website. This account has a very short trading history of 21 days, which makes it impossible to analyze the system's profitability. After conducting 109 trades, it has a win rate of 90.82%. The maximum drawdown is 7.7%, while the profit factor is 1.60.
Customer reviews

There are no verified user reviews for this EA on third-party websites. It is hardly surprising that not many people know about this system since it was launched roughly a month ago. On MQL5, we came across a few user testimonials, but we cannot consider them authentic.