EA Super 8 is a newly-launched Forex expert advisor that is sold on the MQL5 website. According to the vendor's claims, the robot maintains a minimum profit without suffering a loss while controlling each trade.
Vitali Vasilenka, the developer, is a resident of Belarus and a Metaverse Creator at EA Quantum Lab. We don't have too much data on this person and his trading history. It is unclear whether he works alone or as a part of a team. His MQL5 profile tells us that he has only a year of experience. Apart from EA Super 8, he has also developed systems like EA Flower, EA Golden Moon, EA Bionic, EA Web, EA Smoke, EA Golden Elephant, and EA Mad Max.
To select the most reliable Forex robot, you must conduct careful research. This involves analyzing various factors like trading strategy, live performance, vendor transparency, price, and customer reviews. To know more, check out our best Forex robots list.
EA Super 8 overview
On the MQL5 product page, the vendor has briefly explained how the EA functions. They have provided some recommendations and shared a link to a live monitoring account. We also have the pricing details and a screenshot showing the historical test results. The vendor hasn't highlighted any particular feature and as per our understanding, the robot does not offer anything unique compared to other systems.
Pricing
EA Super 8 carries a price tag of $149, which means it's quite affordable. The vendor offers a free demo version for testing purposes but there is no money-back guarantee offer.
How it works
EA Super 8 is suitable for an aggressive trading approach. It has in-built methods for determining the direction of the trend. The vendor recommends starting with a minimum balance of $100 and dividing the capital into 10 parts. You can store your reserve funds in a personal account and withdraw a profit daily after the trading is completed.
This EA trades in EUR/USD, AUD/USD, and NZD/USD. You can run it on M1 charts. But the vendor recommends against combining all three pairs in one account. They have also recommended using a VPS server and signing up with the Exness brokerage.
Trading strategy
The vendor has not shared any details on the trading strategy. As such, we don't know how the EA identifies profitable trades or how frequently it opens orders in the live market.
Trading results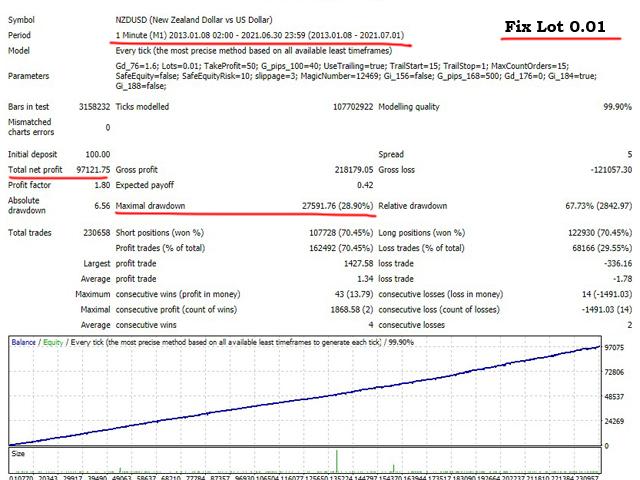 From 2013 to 2021, the vendor conducted a backtest on EA Super 8 using an every tick model and the M1 timeframe. After placing 230658 trades, the EA generated a total net profit of $97121.75. It had a win rate of 70.45% and a maximal drawdown of 28.90%. The win rate is slightly higher compared to the live trading statistics, while the drawdown is significantly lower. There were 43 maximum consecutive wins and 14 maximum consecutive losses during the testing period.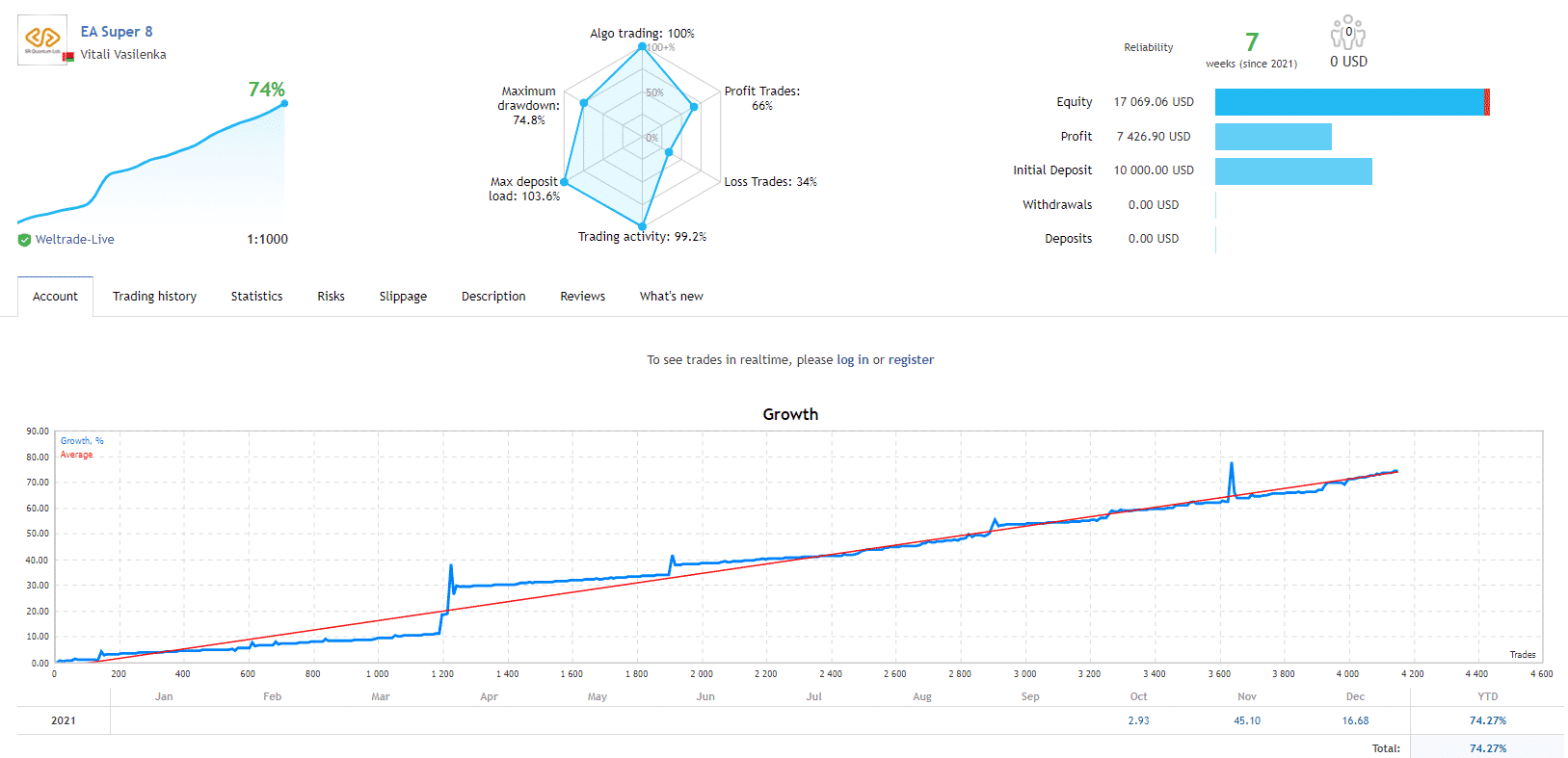 This live trading account on MQL5 has been active for only 36 days. Since the results are not posted on a third-party website, we have no way to verify their authenticity. During this short time period, the EA has placed as many as 4151 trades. While maintaining a win rate of 66.03%, it has generated a total profit of $7426.90.
The maximum drawdown for this account is extremely high at 74.80%, and this is indicative of a risky strategy. While the profit factor is 1.55, the average profit and loss are $7.64 and $9.58, respectively. On average, this EA conducts 498 trades every week and holds each order for approximately 3 hours.
Customer reviews

We were not able to find any user reviews for this EA on trusted third-party websites. This means that not many traders are currently using this robot for live trading. While there are several reviews on MQL5, we cannot consider them authentic.
Customer support
We don't have the official contact details of the developer. If you require support, you must message them via MQL5.