Excelsior is a Forex expert advisor that runs on the MT5 trading platform. Launched on 5th September 2020, this robot is sold on the MQL5 marketplace. It is based on a variant of the recurrent neural network.
The developer behind this system is based in Russia and his name is Evgeniy Scherbina. There is zero background information on this person. We don't know for how long they have been manufacturing EAs, but their MQL5 tells us that they have been selling products on the website for more than eight years. Other products from this seller include Neural Bar Predictor, NewsCatcher Free, Pipsovar, Ain't No Trend, and NewsCatcher Visual.
Choosing the best Forex robot requires careful research and analysis. You need to look into various factors like live performance, backtests, price, strategy, and user reviews. For more information, you can check out our best Forex robots list.
Excelsior overview
On the MQL5 product page, the vendor has explained how the robot works and how you can set it up. There is a list of EA properties and a set of recommendations from the seller. You can find the historical test results in the screenshots, and there is a link to a live trading account on MQL5. The vendor seems to be focusing on the neural network and its benefits. However, as per our understanding, this EA does not have any unique features.
You can use this robot to trade in pairs like AUDUSD, EURUSD, GBPCHF, GBPUSD, NZDUSD, USDCAD, USDCHF, and USDJPY. The minimum deposit should be $250 and the starting lot size should be 0.01. However, the vendor recommends starting with $1000 and a volume of 0.02. From the EA settings, you can program the system to close a losing trade after a certain number of days. You can also set the values of stop loss, volume, suffix, font size, same signals max, and same signals range.
Pricing
The current price of this robot is $385. This is more or less close to the market average price for EAs. There is a free demo version you can download for testing purposes, but there is no money-back guarantee offer.
How it works
This EA uses two independent neural networks for calculating long and short signals. You can run it on weekly or daily charts. It is possible to initiate trades with the same account or with other indicators and advisors. Excelsior is compatible with VPS. When the trend changes, it closes trades or sets a stop loss at the opening price. The first stop loss is set for performing internal computations.
Trading strategy
Unfortunately, the vendor has not explained in detail the trading strategy behind this system. We don't know what indicators it uses or how it identifies profitable trading opportunities.
Trading results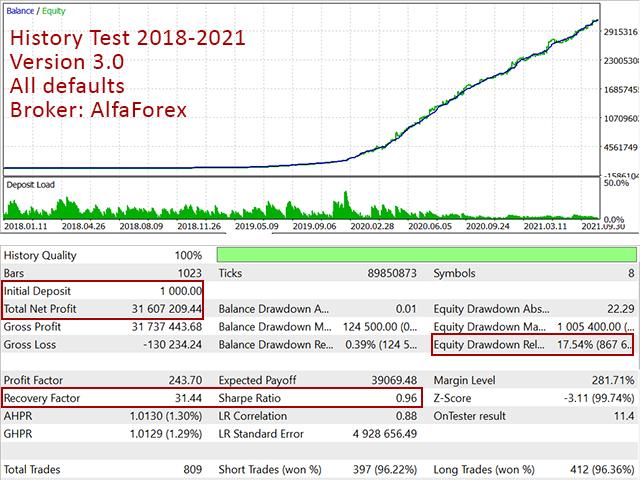 During this backtest, the EA conducted 809 trades from 2018 to 2021. It used an initial deposit of $1000 to generate a total net profit of $31607209.44. It won 96.22% of short trades and 96.36% of long trades. Thus, compared to the live statistics, the win rate was slightly higher. Here also, it was using a low-risk strategy, since the relative equity drawdown was only 17.54%.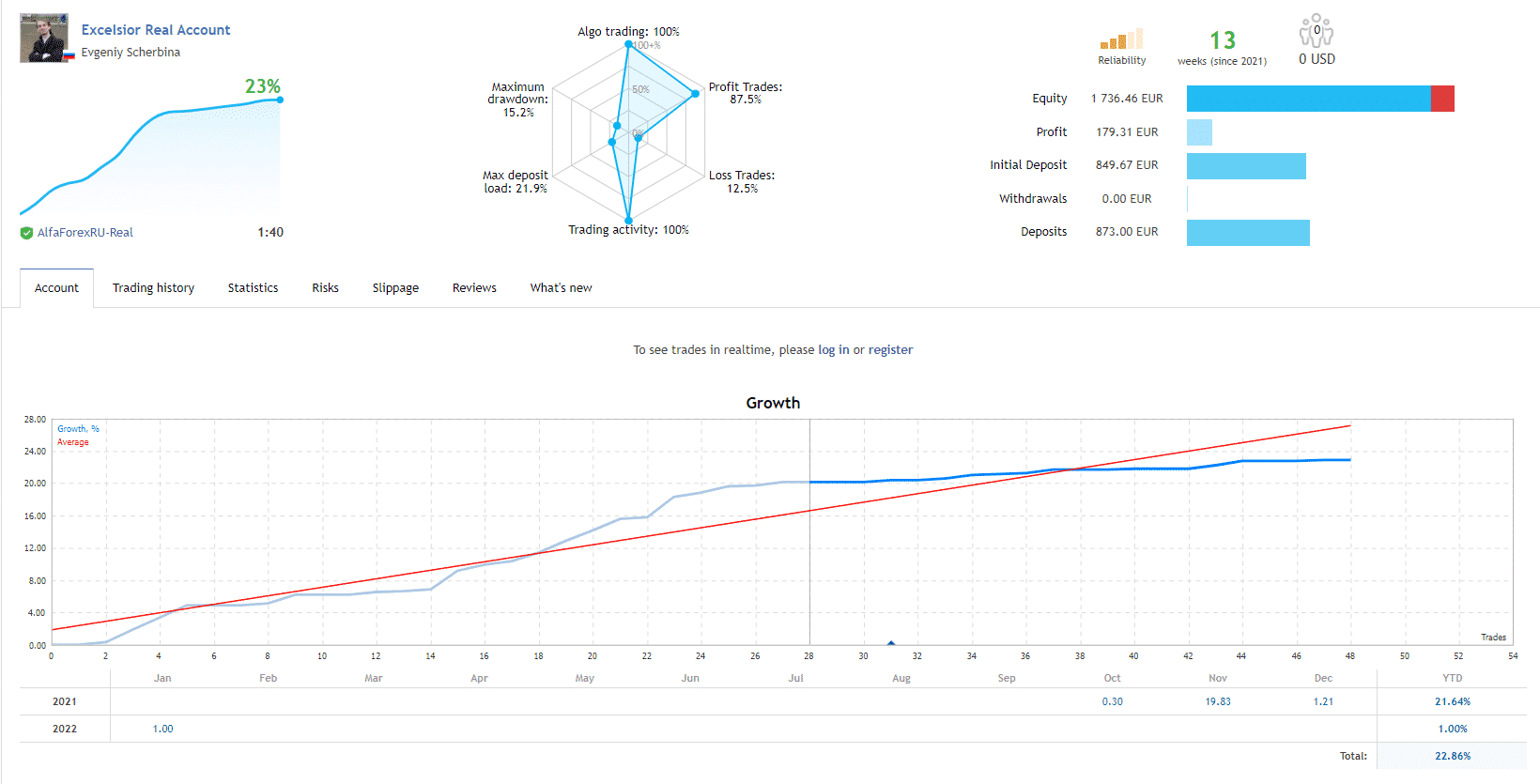 Since there are no verified trading accounts for this expert advisor, we must rely on the live signals shared by the author on MQL5. This account was launched on 5th December 2021 and since then it has had 25 trading days. After conducting 48 trades, the win rate for this account currently stands at 87.50%. The total profit generated through this account is $179.31.
This account has a maximum drawdown of 15.2%, which indicates a low-risk strategy. The average profit and loss are 5.05 Euros and 0.03 Euros, respectively. There have been 20 maximum consecutive wins and 3 maximum consecutive losses.
Customer reviews

There are no reviews for this Forex robot on trusted third-party websites. Although there are a handful of reviews on MQL5, there is no way for us to verify their authenticity.