FX Scalper X is Forex EA that promises to compound your Forex account over time while avoiding dangerous strategies like grid trading, hedging, and martingale. The vendor claims that the robot has proven itself to be adaptable to different market conditions, thus showing impressive performance for several years. It is said that the system can eliminate emotions from the trading process, and is extremely easy to set up.
On the official website, there is no information to be found about the company that developed this robot. We are not provided with the identities of the developers and traders, and we don't know if the company has manufactured similar systems in the past. Thus, it does not offer much as far as vendor transparency is concerned.
In order to choose the best Forex robot, we first analyze different aspects of the system like the features, pricing details, trading strategy, trading results, and customer reviews. It allows us to form an objective assessment of its profitability and reliability. You can check out our best Forex robots/signals list to know more.
FX Scalper X Features
The vendor has given us a brief presentation of the software on the official website. They seem to be focusing a lot on the backtesting data and live performance, which is a good sign. It tells us that vendor is confident about the system being able to generate steady profits.
We also have the pricing details, a few screenshots of customer testimonials, a list of main features, and a video that shows how the robot functions. Finally, there is an FAQ section, where the answers to some common questions are provided. As far as we can understand, this service does not provide anything special or unique compared to others.
It is capable of profiting on autopilot and has a record of earning $100-$150K in 2020. Stop losses are used with every trade, so you don't have to worry about exhausting your account. The minimum starting balance for this robot is $100, and you can use it to trade USD/CAD, GBP/USD, EUR/USD, EUR/GBP, and AUD/USD.
Pricing
The FX Scalper X Bundle consists of 3 robots and has four different pricing packages. The 3 month, 6 month, 1 year, and unlimited licenses cost $117, $157, $197, and $277, respectively. It has been explicitly mentioned on the website that no refund is provided for this Forex EA.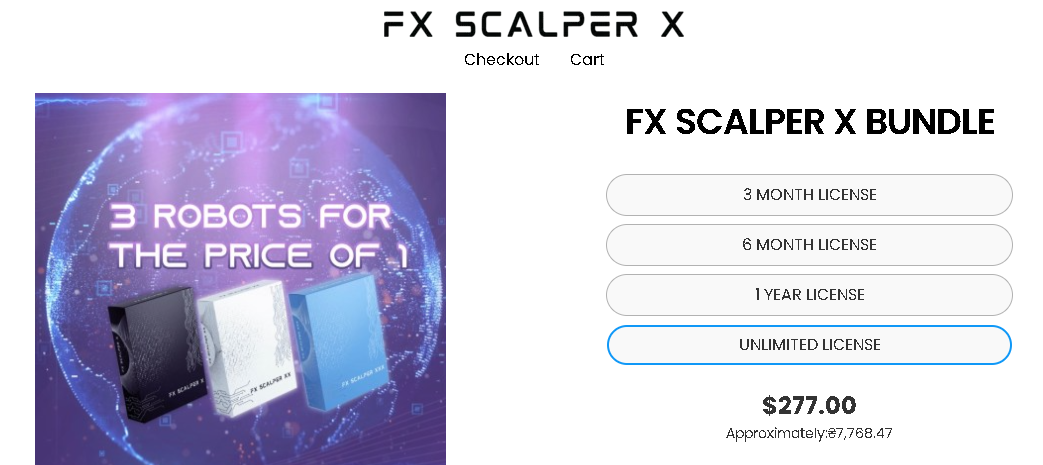 How it Works
After purchasing the robot, you will receive a link via email using which you can download the software. You also receive a manual detailing the different functionalities of the system. It opens and closes trades based on certain programmed criteria. It can trade 24 hours a day and swiftly execute the orders.
Trading Strategy
The vendor has chosen not to disclose any details about the trading strategy on the official website. Thus, we don't know how it identifies profitable opportunities or measures the strength of a trend. Some Forex traders are very particular about technical details, and they may take this as a red flag.
Trading Results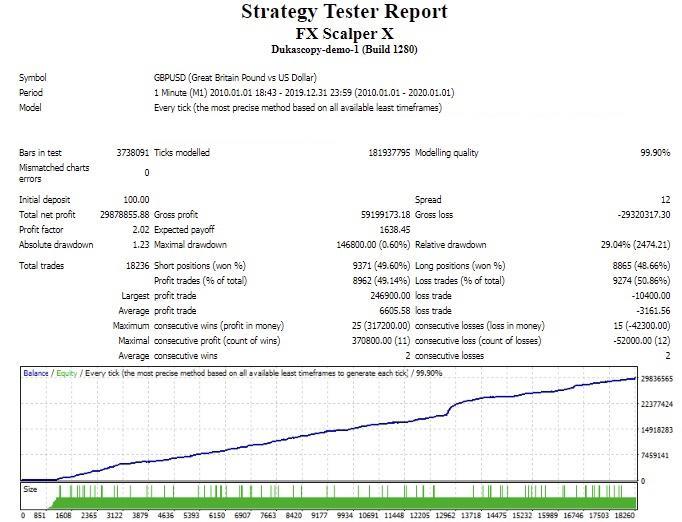 This backtest was carried out on the GBP/USD pair for the 1-minute timeframe. The test started in 2010 and ended in 2019. It comprises 18236 trades. Out of these, 8962 were won by the robot, which represents profitability of 49.14%.
The total profit generated through the backtest was $29878855.88 and the profit factor was 1.23, which was a little low compared to the live trading results. Another thing to note is the marginally high relative drawdown of 29.04%.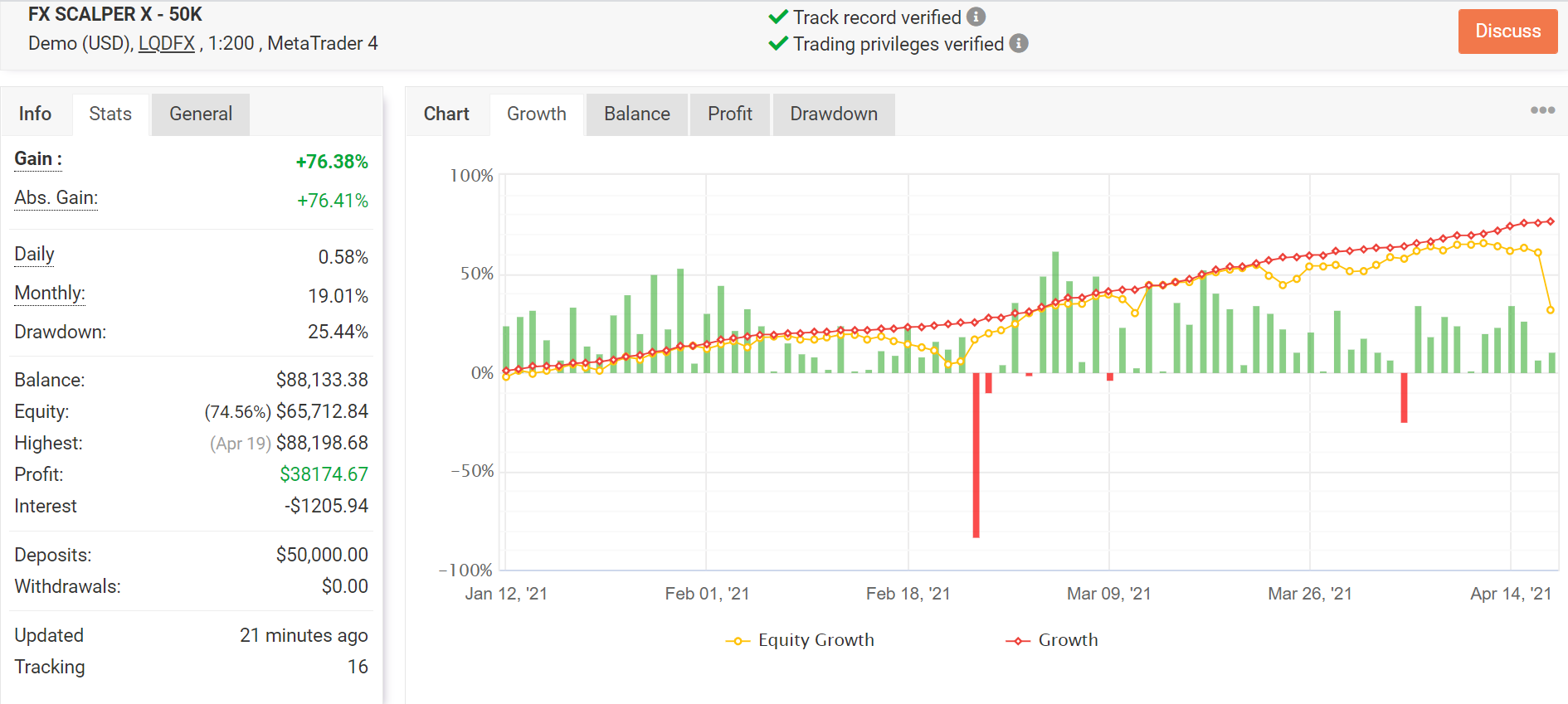 This FX Scalper X trading account on Myfxbook has been active since 12th January 2021, and to date, it has managed to accumulate a total profit of $38174.67. While the daily and monthly gains for this account are 0.58% and 19.01% respectively, the drawdown is moderate at 25.44%.
A total of 2879 trades have been placed through this account, out of which 2218 have been won, representing a win rate of 77%. The profit factor of 1.84 is pretty decent, while the time-weighted return is 76.38%. Looking at the trading history, we can see that there have been no major losses.
Customer Reviews
There are no customer reviews for FX Scalper X on popular review websites like Quora, Myfxbook, Trustpilot, and Forexpeacearmy. Since it has a short trading history on verified accounts, maybe not many people trust this robot enough to purchase it.