Happy Fast Money is a Forex expert advisor that is compatible with the Metatrader 4 trading platform. You can use this robot to trade in multiple currency pairs and it is compatible with multiple operating systems. 
The parent company behind this EA is known as Happy Forex. This team is based in Germany and they have been manufacturing expert advisors for several years now. Some of the most well-known robots from them include Happy Galaxy, Happy Power, Happy Frequency, Happy Gold, Happy News, Happy Trend, and Happy Way.
You need to conduct thorough research before choosing a Forex expert advisor. This includes looking into factors like live performance, pricing, trading strategy, backtests, user reviews, etc. To know more, check out our best Forex robots list.
Happy Fast Money overview
On the official website, the vendor has highlighted the pricing plans and explained, in brief, the trading strategy. We have a list of EA requirements and features. The vendor has also shared the links to a couple of live trading accounts on Myfxbook. They have mainly focused on the features and the trading strategy.
Unlike some other systems, this one supports ECN brokers. This ensures you get the best deals in the market. It operates on a 24/7 basis and can perform auto-quotes detection of 4 or 5 digits. Since it is 100% automated, you can make it work without any manual inputs.
Pricing
For 299 Euros, you can get 2 real-account licenses for this EA, while 5 licenses cost 499 Euros. The prices are quite standard compared to the market average. There is a 30% discount for this robot and a special offer where you get the Happy Forex Full Pack containing 10 EAs for free. The vendor also offers a 30-day money-back guarantee.
How it works
This EA is compatible with operating systems like Linux, Mac OS, and Windows 7, 8, 10, 11. You can use different types of accounts like Standard, Mini, and Micro. The recommended deposit for a Micro Account (0.01 lot) is $5000. For a Mini Account (0.1 lot), the recommended deposit is $50 000, while that for a Standard Account (1 lot) is $500 000. According to the developer, the EA is suitable for both new and experienced users. Also, it can trade in large accounts on MT4. You can use this system to trade in pairs like EUR/USD, USD/CHF, GBP/USD, AUD/USD, EUR/GBP, and EUR/CHF.
Trading strategy
This robot uses a combination of grid and hedge strategies. The main idea is to initiate an order purchase and sell limit. Once the price reaches the limits set by the user, the system executes the transaction.
Trading results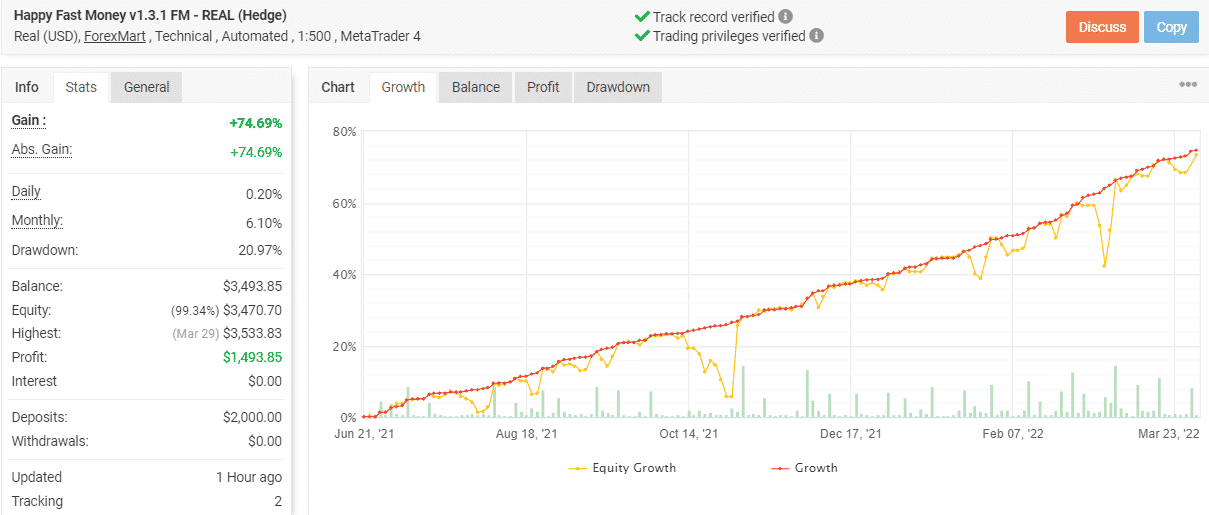 Here we have a live trading account on Myfxbook that has been active since June 21, 2021. This is a hedging account that trades with 1:500 leverage. To date, the EA has conducted 1355 trades through this account, winning 72% of them. The win rate is quite high compared to other robots. Also, we can see that the account has a decent profit factor of 1.65.
Currently, this account has impressive daily and monthly gains of 0.20% and 6.10%, respectively. The drawdown is 20.97% which is acceptable for trading. The total profit generated through the account currently stands at $1493.85, while the time-weighted return is 74.69%.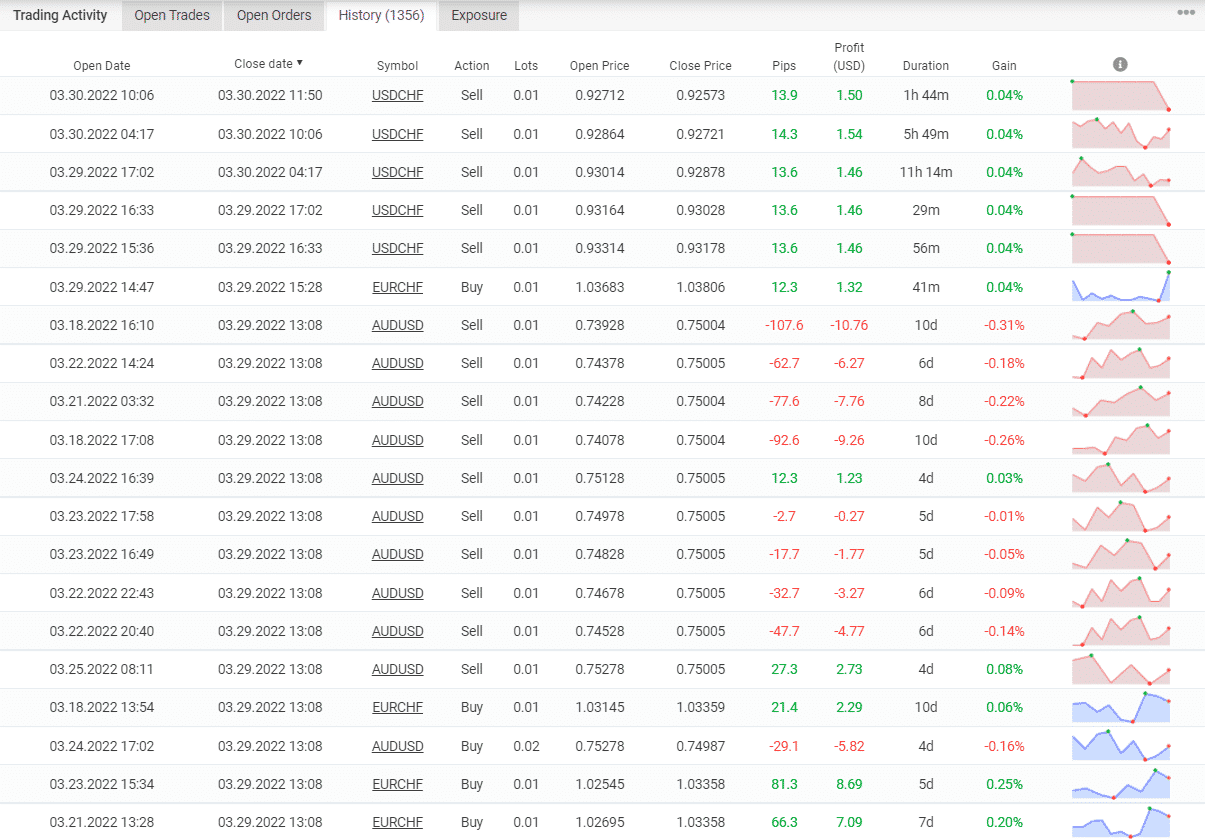 Here you can see the recent trades conducted through this account. The EA has used a lot size of 0.01 for the last 20 trades. We can see that it is capable of generating profits at a steady rate. It holds each trade for an average of four days. The average win and loss for this account are 36.38 pips/$3.88 and -51.27 pips/$6.09, respectively. Unfortunately, the vendor has not shared the backtesting results for this expert advisor.
Customer reviews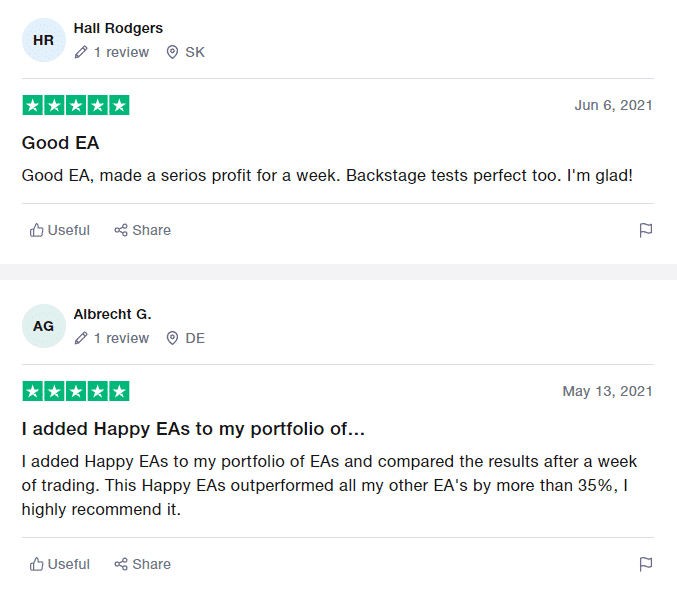 There are no reviews for this EA, but Happy Forex has a rating of 4.5 out of 5 on Trustpilot, based on 13 reviews. Users have praised the performance of the EAs and claimed to have won steady profits with them.
Customer support
The official website has a contact form through which you can get in touch with the support team. You can find the official email address on the Facebook page.