To get your attention, the devs say that the Odin Forex Robot is dominating the charts everywhere. They go on to state that it is unrivaled and has a brutal trading accuracy. So, it is presently the number 1 choice of professionals using FX robots in 2021. These statements couldn't be further from the truth. We have established that the system is untrustworthy.
The brain behind this EA is Don Steinitz, a programmer with a background in accounting. Don is said to be working with a number of top notch programmers that are exceptionally gifted and knowledgeable about the MQL code that Forex robots are written in. Sadly, we doubt if the devs have the necessary qualifications to come up with effective strategies since info on their trading background is not presented.
Odin Forex Robot features
Is designed to run inside of the MT4 terminal and work with any MT4 broker.
Applies a real time broker shield to guard your trade info.
Comes loaded with optimized settings for more than 20 common Forex pairs.
Works with any account size.
Has an in-built money management that computes the safest lot size for you automatically.
It has a clean and educational visual interface.
Provides free lifetime updates.
Pricing
The Odin Forex Robot is sold at a one-off price of $129. This cost is fair. In fact, this product is one of the cheapest EAs we have come across as some go for as high as $1000. Unfortunately, a money-back guarantee is not part of the package.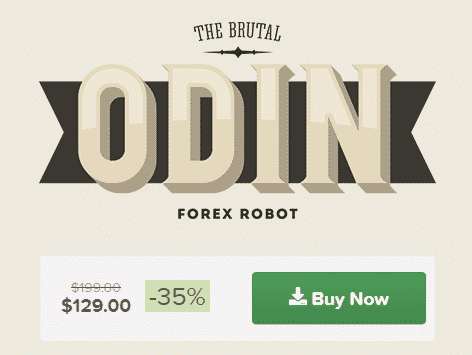 How it works
Odin is a Forex robot. This means that it is automated from the beginning to the end. It opens, manages, and closes the best trades without requiring you to lift even a finger.
Trading strategy
As per the vendor claim, Odin identifies great trading opportunities applying a dependable grid trading strategy. The robot mainly plots each small price movement against a grid so as to identify predictable patterns. Next, it takes these patterns and assesses them to predict future price movements. The end result is highly accurate trades with no indicator lag. However, we don't agree. No matter how the vendor tries to sugar coat it, we all know that the grid comes with its fair share of dangers. One wrong move in the market is enough to get you back to where you started.
Trading results
The vendor has not deemed it necessary to furnish us with backtest results. This is a huge setback because it causes traders to be oblivious to the workability of the trading algorithm in place over an extended period. We cannot emphasize enough the dangers that lie in wait for traders who choose to work with a system whose past performance is unknown.
We are presented with links to the robot's trading results. As you can see below, the data is presented in a backtest-like format. The devs want us to believe that their EA is running a million-dollar account that has a zero drawdown. We are informed that the robot has already executed 398 orders two weeks into October. It also wins almost all of the trades. This is evidenced by the win-rates of 95.91% for short positions and 93.83% for long ones.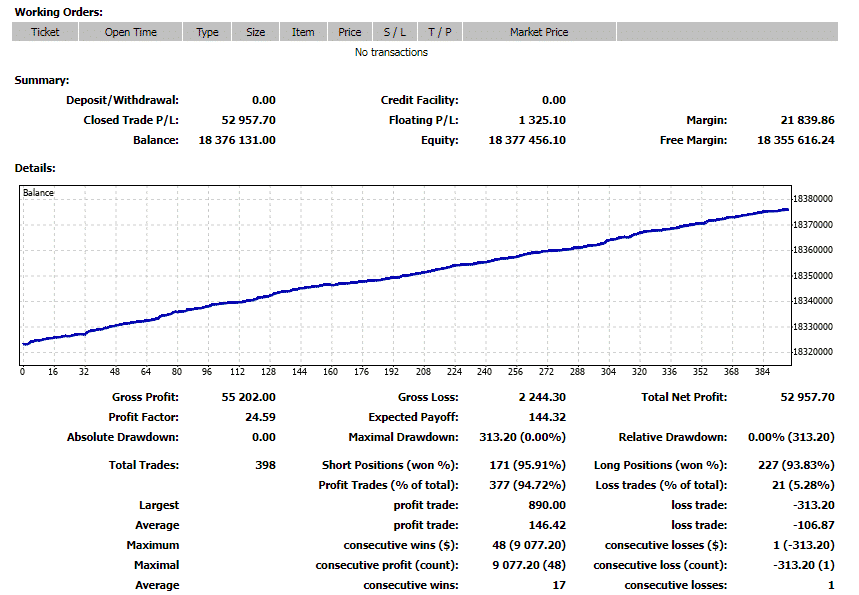 If they want us to trust these results, the devs should open a live account with a credible site like FXBlue or Myfxbook.com. We want to see if the remarkable performance illustrated above can be replicated on these platforms.
Customer reviews
Odin has received lots of reviews from customers on FPA, and a majority of them are negative. A rating of 2.256 is a clear sign that buyers are not happy with it. We analyzed some of the testimonials, and learned that Odin does not work with most brokers, its team supplies fake trading data, makes losses all the time, and can blow up your account. These findings confirm our concerns about the dangerous nature of strategy on board.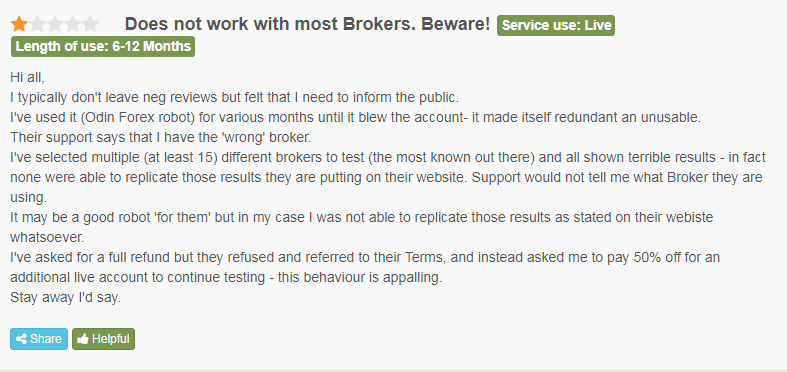 Other notes
The vendor also offers a free robot. They say that with this product, you can instantly deploy a lucrative strategy onto your charts with a few mouse clicks. All you have to do is sign up for the company's newsletter and they will email it to you.