Ranger EA is a Forex Expert Advisor launched on 19th November 2020. The lead developer goes by the name of Ryan Brown and is based in the United States. From his MQL5 profile, we can see that he has developed one more Forex EA in the past and has provided trading signals for both.
This Forex EA claims to find profitable trades every week and end every month in profit. It trades in the AUD/CAD and GBP/CAD pairs and is compliant with FIFO.
Now, in order to find the best Forex EAs, we must analyze all of its aspects, like pricing, trading strategy, live trading results, backtesting data, customer reviews, etc. After studying these, we can know whether to trust a system or not.
Ranger EA Offering
Ranger EA claims to possess an extremely forward track record of one year and a long backtesting history of more than 10 years with a modeling quality of 99.90%. The vendor states that the software has a projected monthly profit rate of 2.5-10%. It is further mentioned that it follows a corrective strategy that allows it to turn failed trades into profitable ones.
We should mention that there is no official website for this Forex EA, and not much is mentioned about the system's features or the identity of the developers. The M30 timeframe is recommended for the GBP/CAD pair, while the H1 timeframe is recommended for AUD/CAD. You are advised to use the default software settings and not to use this software for trading other pairs.
Pricing
Ranger EA is available for $497, but there are rent options available as well. You can rent the Forex EA for 1 month by paying $40 and for 3 months by paying $120. This is not cheap software by any standards, and we think that the $497 is quite an exorbitant amount to pay for a system that has just been launched on the market.
While no money-back guarantees are offered by the vendor, you can download the free demo version of the Forex EA.
How it Works
The vendor maintains a free Discord group where other users of this Forex EA provide users with backtests and live trading results. They have provided account signals for both live and demo accounts and mentioned that the software uses an intelligent method for pointing out trade entries and exits.
Trading Strategy
Technical details about the trading strategy are something that every serious Forex trader looks for. Even if you're not a technically-inclined trader, it is always useful to know about the trading strategy applied for generating profits. If you have studied a bit about technical and fundamental indicators, you can get an idea of whether the strategy is effective or not.
Unfortunately, no details about the trading strategy are revealed on the MQL5 page of the vendor. We would have liked them to at least touch upon the subject, giving us an idea about what kind of indicators they use. But, since no details are provided, we have no way of judging the efficacy of the strategy.
Trading Results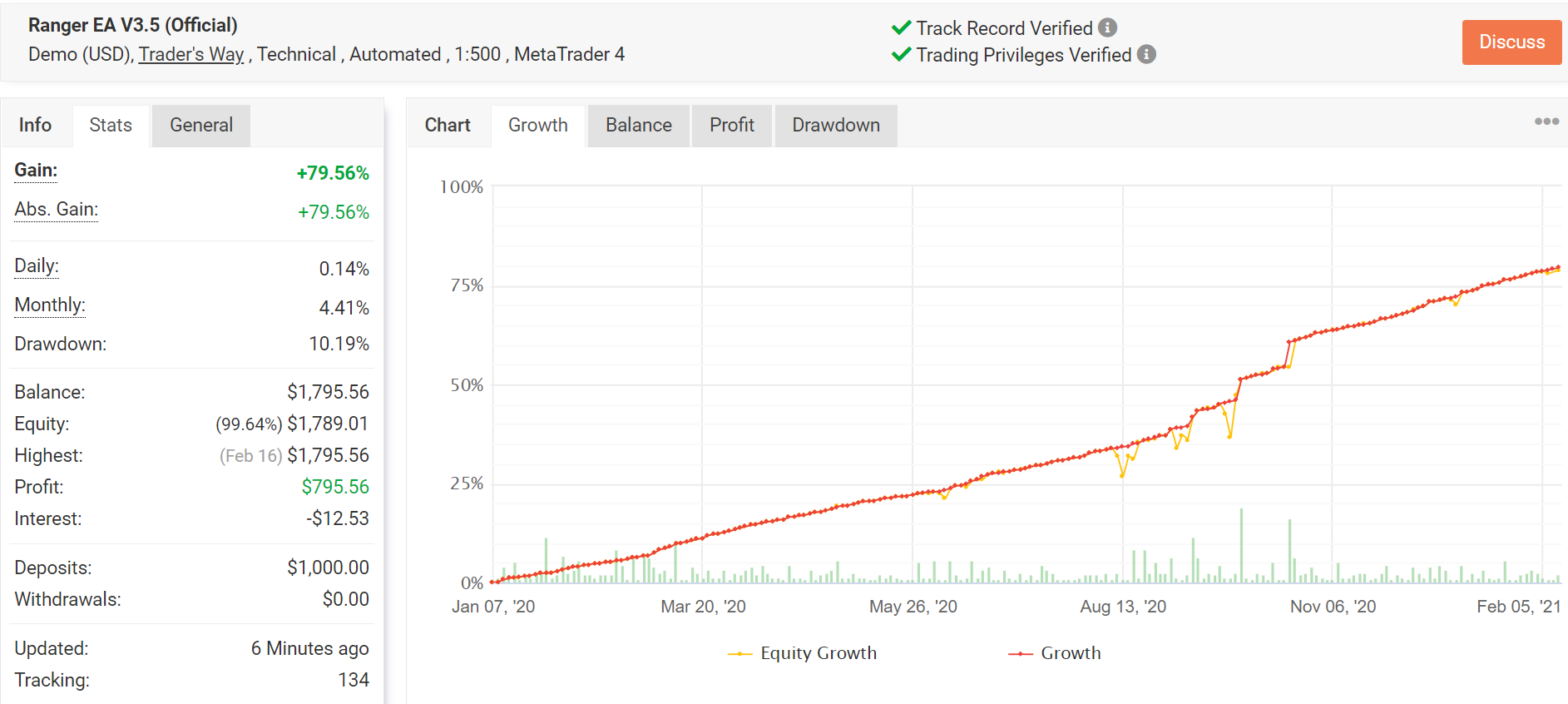 We managed to find a demo account on Myfxbook for Ranger EA. Here, we can see that the account was launched in January 2020, and to date, it has generated a profit of $795.56 from a deposit of $1000. A total of 733 trades have been placed using this account, out of which 521 have been won and 212 have been lost. This represents a high profitability of 71%.
Apart from the high profitability, there are other things worth mentioning about this trading result. The daily and monthly gains stand at 0.14% and 4.41%, respectively, and the drawdown of 10.19% is quite low compared to other systems. Finally, the high profit factor of 2.76 tells us that you can certainly rely on this Forex EA to bring you gains on a regular basis.
While the live trading results are quite impressive, we expected to find some backtesting data as well. After all, performance based on historical data is something that Forex traders judge a system on and we hope the vendor includes this in the future.
Customer Reviews
There are no customer reviews for Ranger EA on third-party websites like Forexpeacearmy and Trustpilot. This is a major disappointment for those who don't consider investing in a product unless there are testimonials from other users. While a couple of reviews are present on the MQL5 page for the Forex EA, they don't seem to be genuine.