Trend Signal is a company that welcomes us with a presentation that looks semi-professional. There's no intel about how much the course costs. The developers avoid telling us this, asking us about providing our email and other personal data. We have some positive statements like "Learn a powerful trading strategy – LIVE. Attend our FREE webinar & learn exactly how to use our Sniper trading Strategy to trade FX, Indices, Commodities & Shares."
Trend Signal Features

The presentation focuses on hype instead of providing important information about the courses, their effectiveness, and pricing:
They inform us that we shouldn't trade all day long.
The trading has to take approximately 20 minutes a day.
The developers know rule-based strategies.
They designed an indicator that will help us to find trading opportunities.
There's a Sniper strategy.
A strategy with that name simply doesn't exist.
The vendor consistently works to improve a strategy.
The system was tested on "Forex, indices, Commodities, and Shares to suit a variety of lifestyles and trading styles."
They offer one-on-one coaching as a good addition.
We can rely on support during courses to achieve the results that we want.
The educational course can take up to half a year. Frankly, we don't know why it takes so long.


The site has been underway since 2003.
We can trade on the real market with a professional trader helping us.
The developers provide us with an exclusive indicator.
There's a team of "highly experienced analysts, and professional traders have created our own exclusive indicators and expert scanning tools for you to use anywhere in the world. This gives all Trendsignal Plus users the unique edge they need to compete and, more importantly, to succeed."
We are told that we may enjoy interaction workshops, "including live trades, analysis, and interactive Q&A. These interactive sessions give us the unique opportunity to interact live with professional traders, asking questions and learning first hand, with all session recordings available to review in your own time."
The developers have designed a member area with all content they produce at the same place.
There's a "Complete Trading Course" pack.
Pricing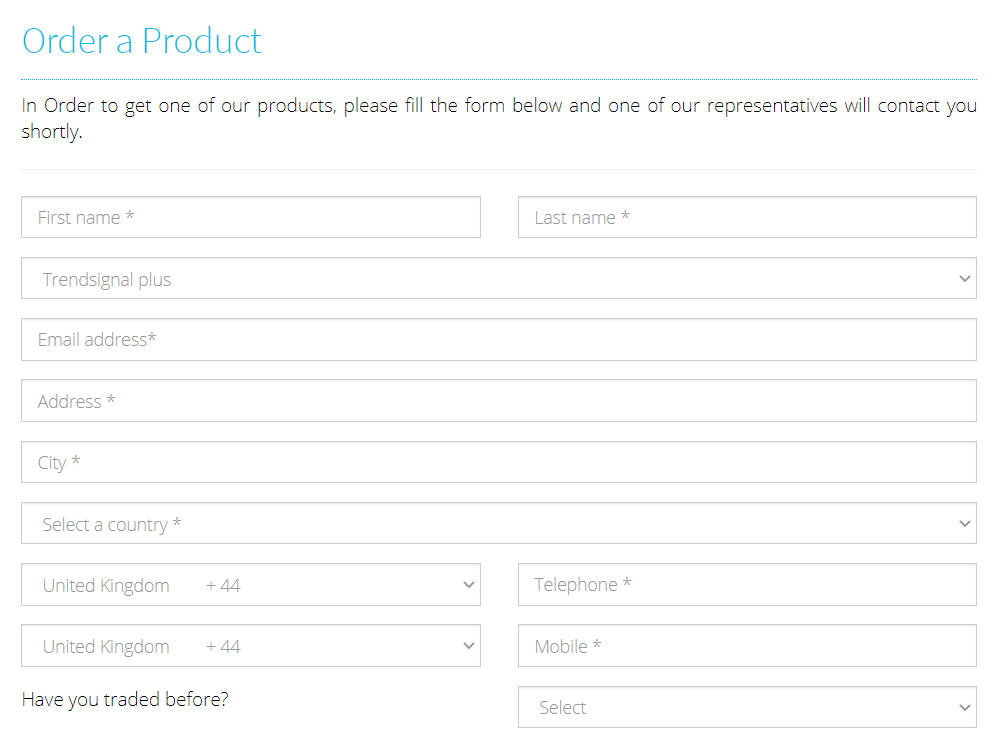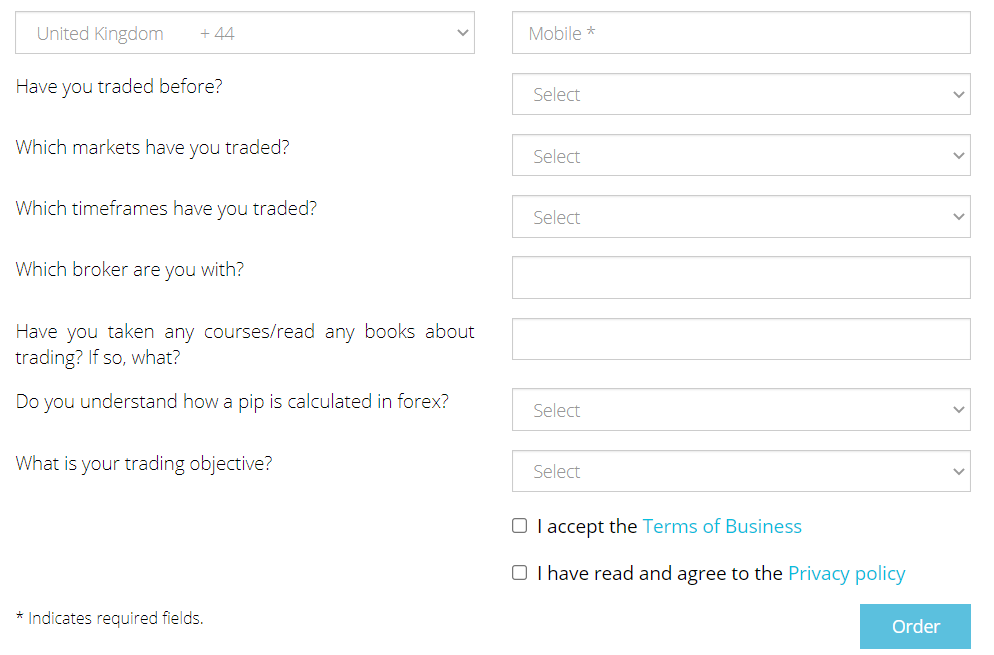 The company would like to know everything about us as well as our trading experience. It looks odd and suspicious. To subscribe to any webinar, we have to complete registration. So, they will spam us with emails forever.
How it works
We truly don't know. Everything is shaded and unclear. There should be pricing for courses or an indicator or both. The devs hide this so, not to scare us.
Trading Strategy
There's a Sniper strategy.
A strategy with this game simply does not exist. It's a manipulation.
Trading Results
If there's an indicator created, the developers had to test it under various market conditions and using various brokers' tick data. These tests would show not only to us but also to the devs that the system is safe to be used on a demo or even a real trading account. Without this sort of important information, it's risky to use Trend Signal.
The presentation doesn't include trading results. If they are that great to teach us, they must have relevant previous trading experience, which we would be able to check easily. We couldn't find any sign of widgets on Myfxbook and FXBlue sites. The lack of the verified data doesn't allow us to know how the system truly works and if it's possible to be profitable with it.
At the same time, usually, that data informs us about details like absolute growth, monthly profit, drawdowns, leverage, platform, average trade length, average profit and loss, win rates, profit factor, and what symbols are better to trade. They must know we need them.
Customer Reviews

There are only positive comments on the site.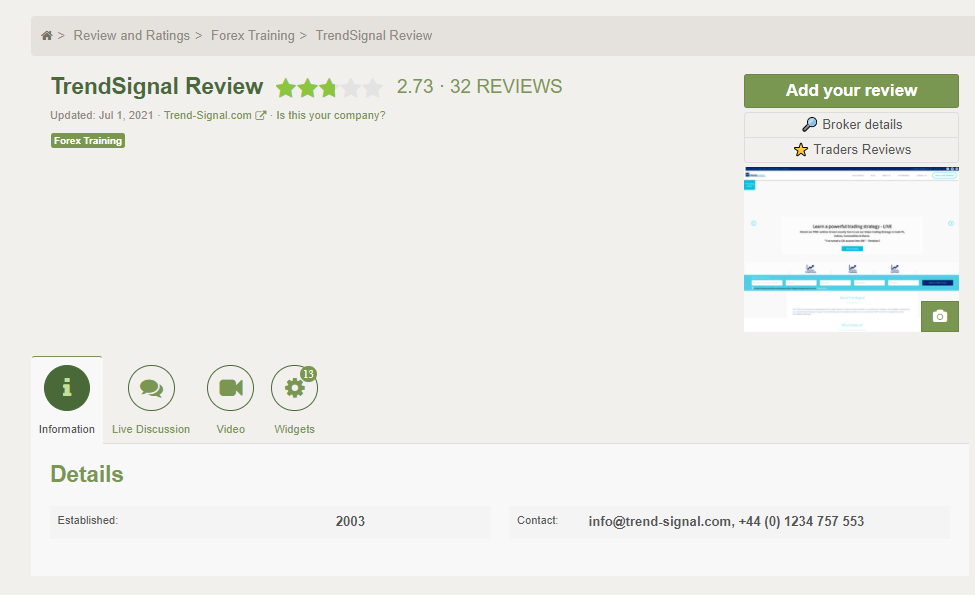 We have got a page on Forex Peace Army with a 2.73 rate based on 32 reviews. There are no trading systems connected to the site.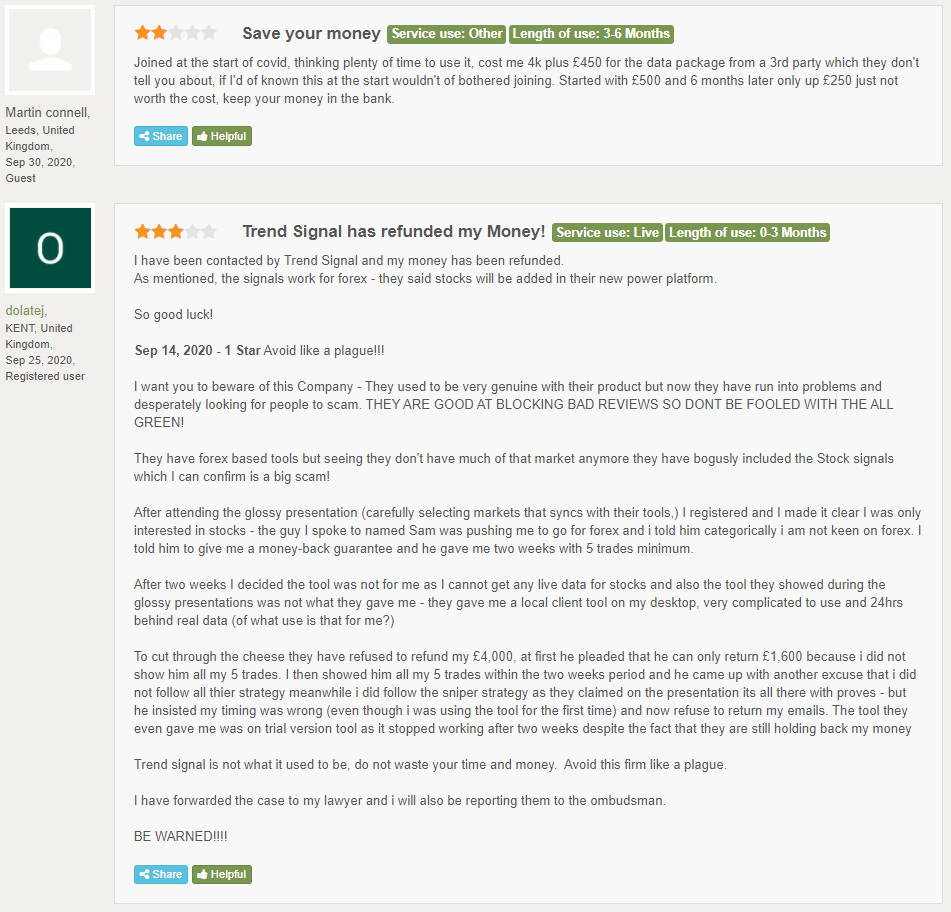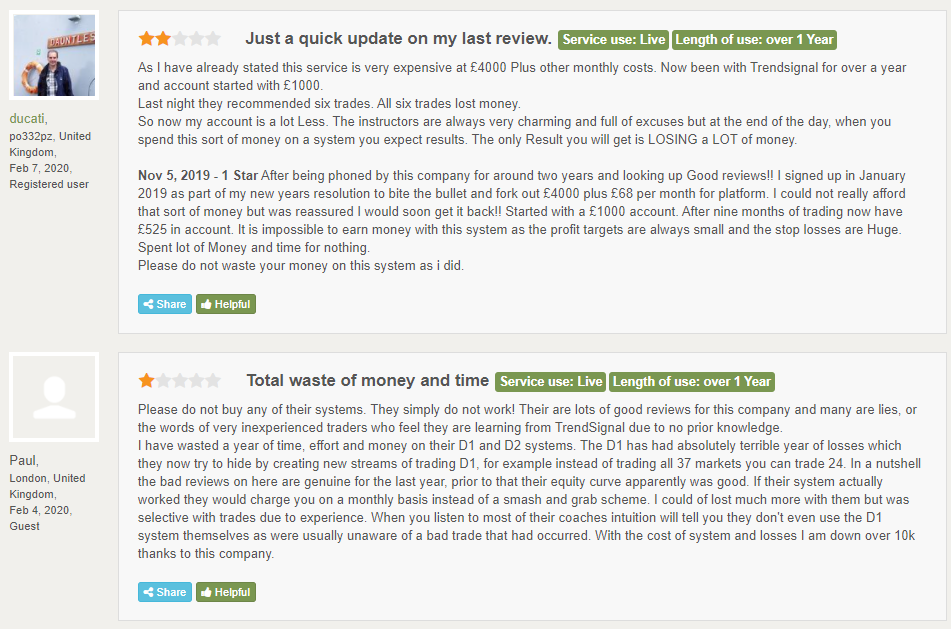 Every second comment is negative. People mentioned that the company acts fraudulent and can't be trusted. People lost money using this indicator.