Is a 1000pipclimbersystem company dead?
Welcome back, the community! We have a 1000pipclimbersystem to review.

The next we see is manipulation.

Clicking on the link, we don't reach the final destination because an article was removed. Probably site owners decide that 1000pipclimbersystem is not a viable service anymore.

Now, there's a page about brokerage companies.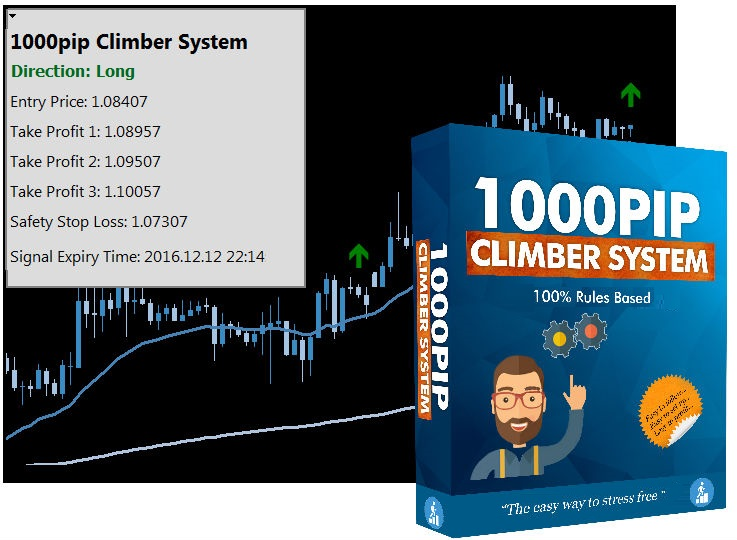 In this picture, we see how a common signal looks like. It includes BUY/SELL direction, Entry Price, several Take Profits, Stop Loss, and the time when the signal is expired.
"The 1000pip Climber Forex System is a state of the art algorithm, designed to make it as easy as possible to succeed at Forex. The Forex system continuously analyses the FX market, looking for potentially high probability price movements. Once identified, the software will notify you visually, audibly, and via email."

The system repeatable provides traders with relevant and strong signals. All signal identification and proceeding are fully automated. We'll get visual (on MT4 charts) and Email notifications. So, there's no channel in Messenger.
All signals are for pending orders with explanations in PDF, so there's no need to rush when following the system. The Forex system is designed to be used in an effortless and uncomplicated way.
To get started we have to:
make a purchase
wait for an email within 48 hours (why's too long?)
receive an EA and set it on the chart
read a beginner's guide and other PDF materials.
Trading results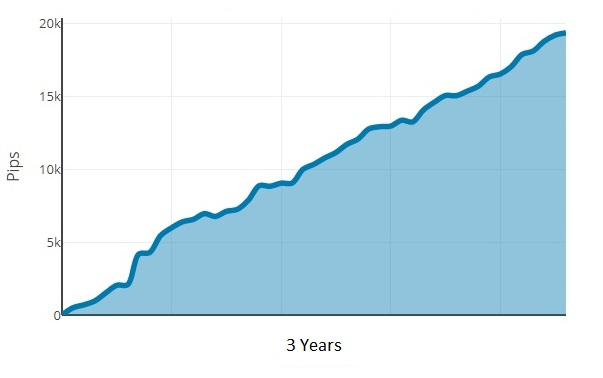 We've got unclickable charts on the site that were introduced as backtests. Of course, it's a lie, because there was no data behind. The system was "tested" on the M15, H1, and H4 charts. It can be used on six currency pairs (which ones?).

These graphs are unclickable too.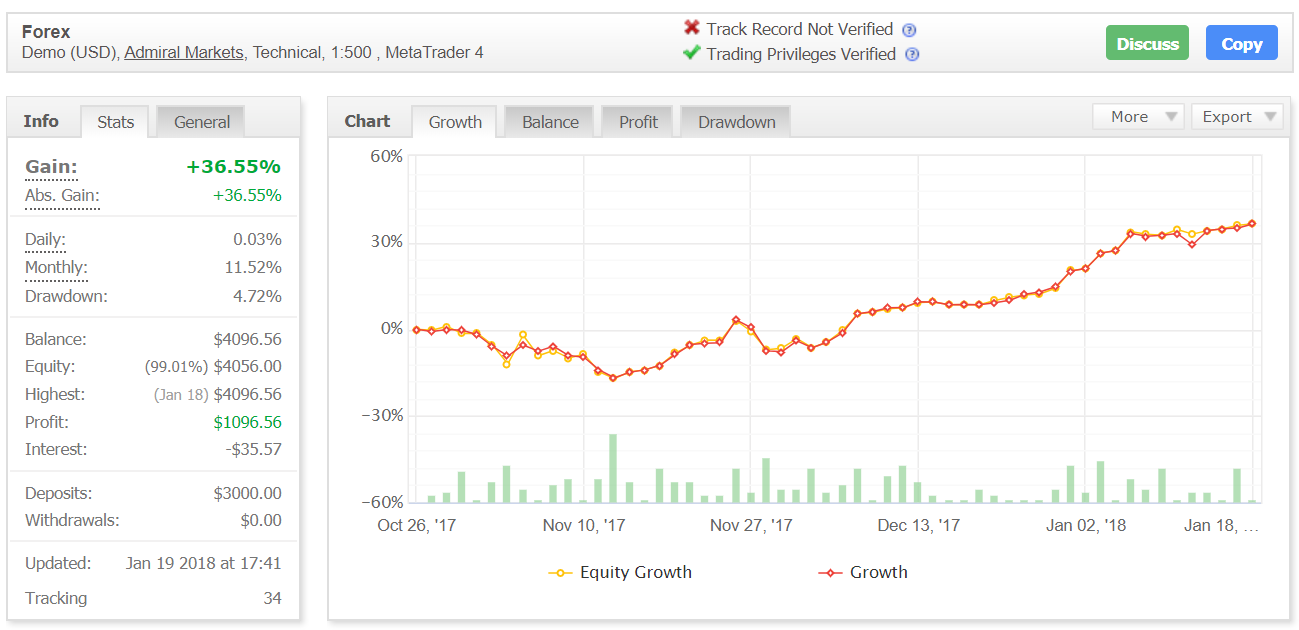 The robot itself ran on the demo account without "Track record verified." The account was created in Admiral Markets and traded with 1:500 leverage on the MetaTrader 4 platform.
The monthly gain was 11.52%, which's high enough. The maximum drawdown was as little as 4.72%. The last update by the robot was over two years ago on January 19, 2018.

There have been performed 282 deals with 1518 pips. The average win ($24.69) equaled the average loss (-$28.63). The win-rate varied depending on longs (57%) and shorts (65%). The average trade length was 17 hours. The Profit Factor was 1.35.

EA traded six symbols: AUD/USD, EUR/JPY, EUR/USD, USD/CAD, USD/CHF, and USD/JPY. The most profit has been brought by EUR/JPY and USD/CAD ones.

The system trades almost all day without favorite hours.

The EA worked with low risks.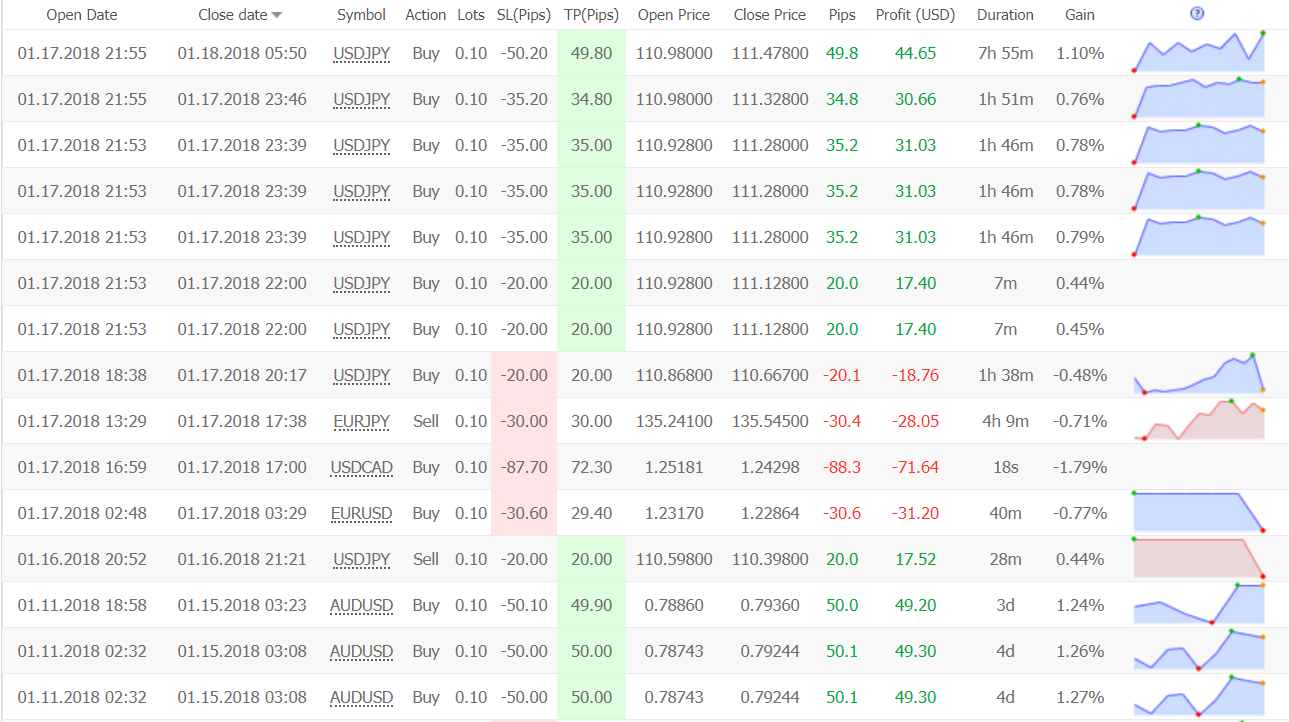 The last results were quite good, but nevertheless devs stopped the robot.
The offer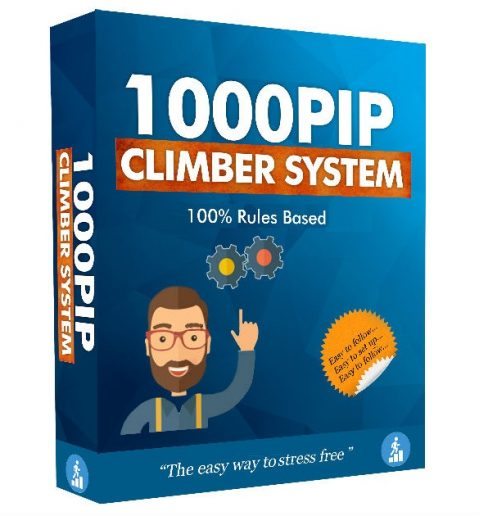 There's just a single price. The robot costs $100. Everything we can have in addition is full support. "The system" sells without any kind of money-back-guarantee.
Onsite Feedback

We wouldn't rely on these comments, because they're not proved by 3rd-party sites like Trust Pilot, and so on.