Today's review will be about Powerful Forex EA. 

The developers suggest that we get a copy of the EA and earn up to 30% monthly.

Next, we see a failed Myfxbook-verified account.
Pricing
There's only one package that costs $250. The developers provide a 30-day money-back guarantee.
How it works
The robot trades two symbols: EUR/USD and AUD/USD.
The main strategy is averaging. That's a risky one.
The EA works without Indicators, so there are few ways to know about market conditions.
Money management allows auto calculating TP and SL for each deal.
We can work with this EA through MT4 and MT5.
We can change real license as many times as we want.
The developers decided not to share with us other information.
Trading Strategy
The robot uses averaging without Technical Indicators. According to their real account, it's a lie because there's info that the EA uses Technical Indicators in trading.
Trading Results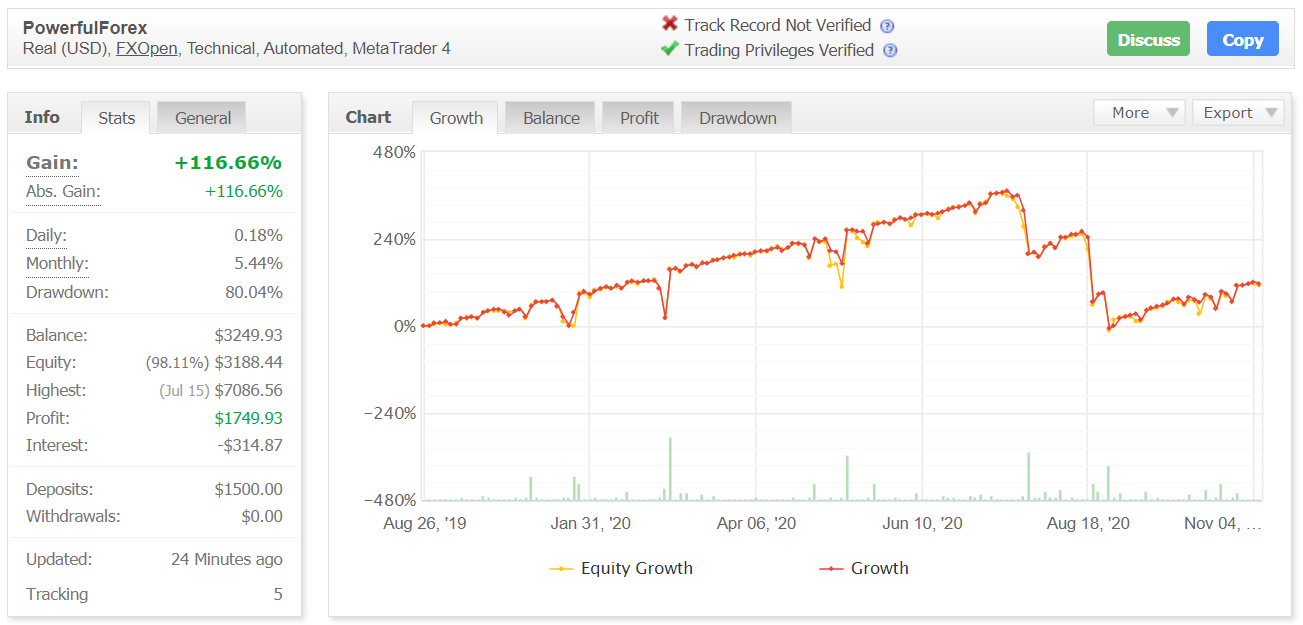 We have a real USD account that was opened on August 26, 2019, on FXOpen. The developers didn't provide full transparency of it (Track Record Not Verified). Powerful Forex EA trades automatically on the MT4 platform. The total account gain was +116.66% after several huge losses. An average monthly gain is +5.44%. The maximum drawdown was insane (80.04%). The account was funded at $1500 and never withdrawn. Five traders track this account.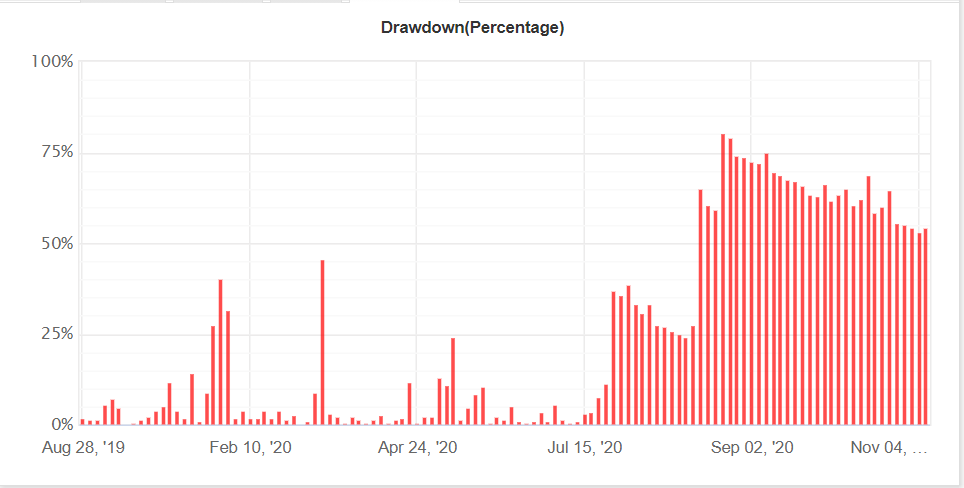 After July 2020, the drawdowns went sky-high.

Even with these losses, the robot is profitable this year.

The EA has traded 220 deals with -115 pips. An average win (34.14) is almost three times fewer than an average loss (-97.33 pips). The win-rate was 73% for Longs and 74% for Shorts. An average trade length is two days. The Profit Factor is 1.11.

All losses were brought by BUYing EUR/USD. AUD/USD has covered them trading both directions ($1233 Longs and $3168 Shorts).

It looks like the robot open swing trades during high impact news on various markets.

As it should be, Thursday is the most active day to open trades.

The EA tries to recover trading with huge risks.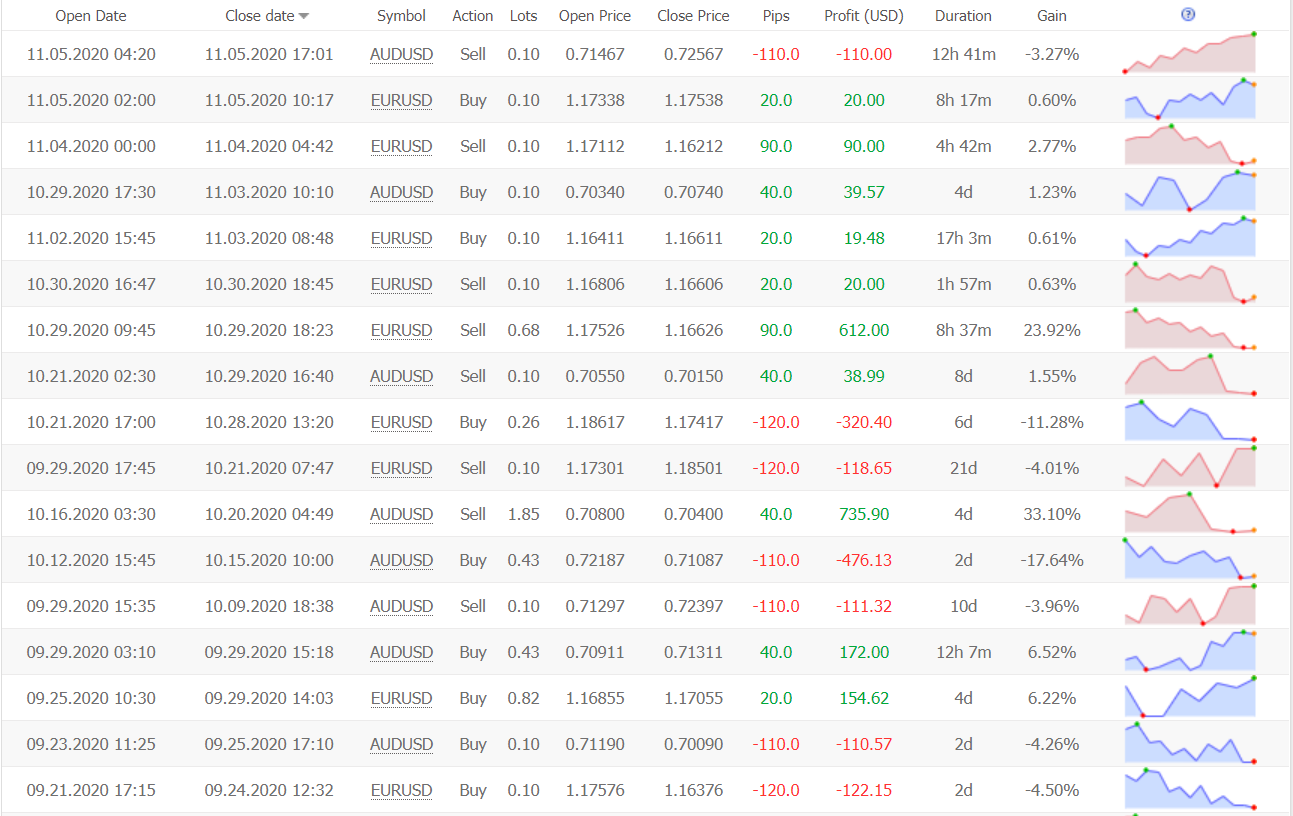 From the trading results, we found out that the robot uses the Martingale strategy to recover after a loss and keep placing a martingale trade until the robot gets a winning deal. It's such a risky way to trade on the little known robot.


After these two lost deals, the robot opened two deals with 1.64 and 3.73 Lots and lost them halved the account balance twice.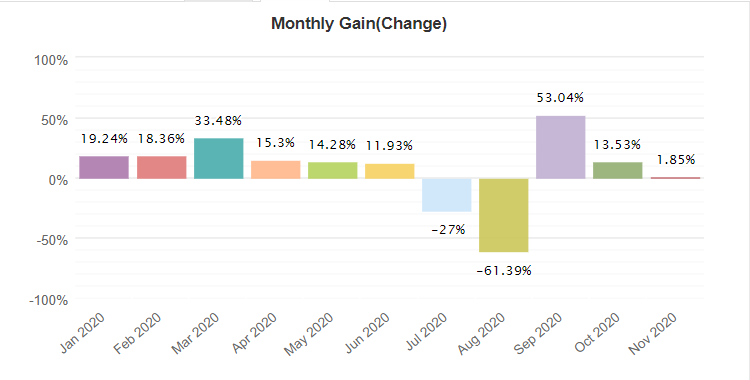 In September 2020, the robot could recover a bit, but after these two months of martingale losses, we know no person who keeps trading using this EA.
Customer Reviews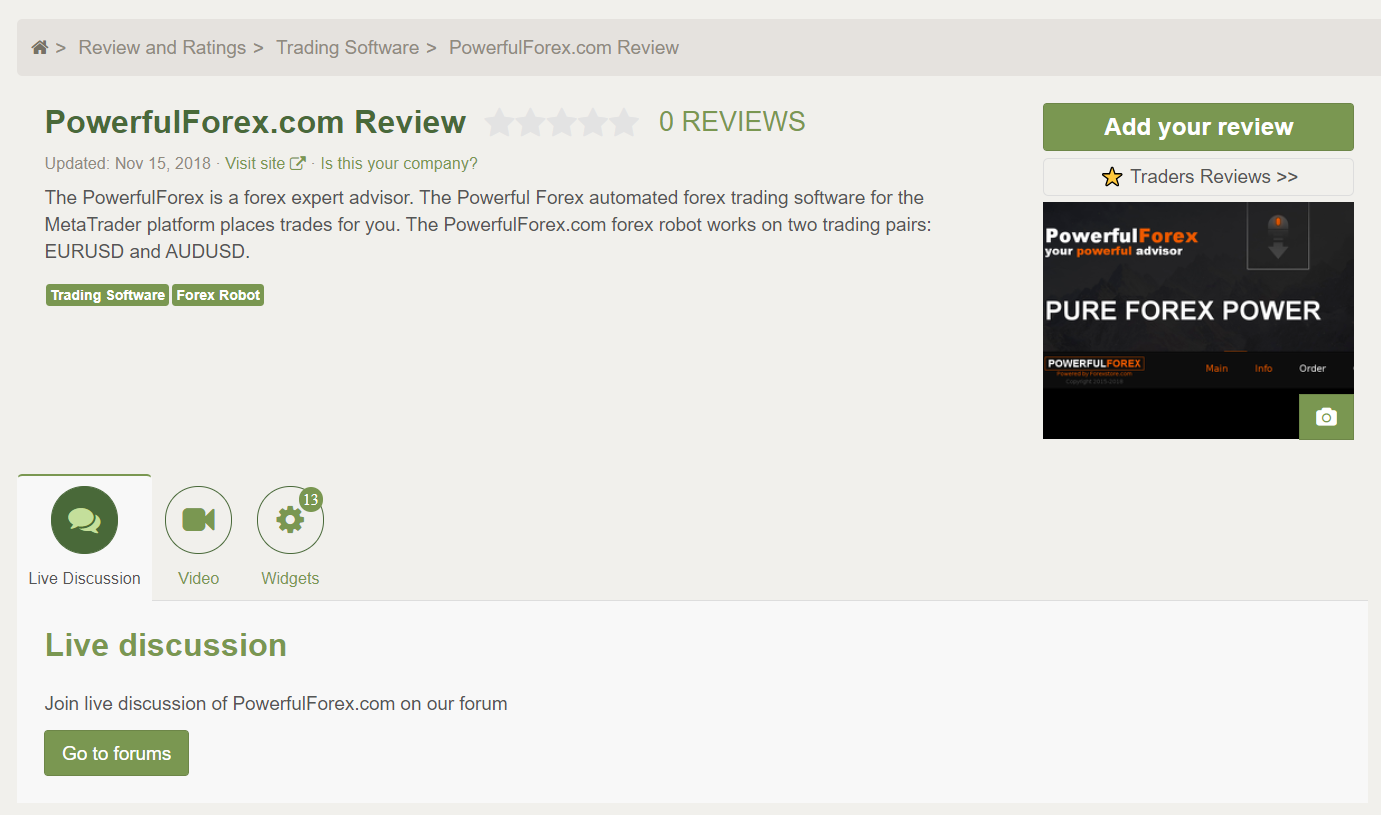 The company has an absolutely empty profile on FPA. There's no people feedback or strategy testing, or live account reports. There isn't a page on TrustPilot as well.